Kentucky's $11 billion travel and tourism industry has a 'unique' plan to meet pent up demand
By Greg Paeth
TOURISTS go to New York to see Times Square and the Statue of Liberty. Florida has Walt Disney World. California,
the top state at attracting travel dollars, has Hollywood, the iconic Golden Gate Bridge and the photo-op-at-every-bend Pacific Coast Highway.
Kentucky Department of Travel and Tourism officials want to make one thing perfectly clear, though: From Wickliffe to Warfield, the Bluegrass State has its own long list of unique attractions blending world-class destinations like the Kentucky Derby and Mammoth Cave National Park with heartland must-sees such as Abraham Lincoln's birthplace, the Kentucky Horse Park and Shaker Village.
Some of the state's attractions can be categorized as offbeat curiosities with niche appeal. This year's 85th anniversary of the "invention" of the Hot Brown open-face sandwich at Louisville's Brown Hotel likely won't have a measurable impact on Kentucky tourism. Likewise for visitation to the Monte Cassino Chapel in Crestview Hills, a 6by 9-foot stone structure identified by Ripley's Believe It Or Not in 1922 as the world's smallest church.
Combine all tourism and travel, however, and you have the state's No. 3 sector in terms of overall economic impact.
It was an industry with an $11.3 billion economic impact in 2010 (the most recent statistics available), according to Cabinet for Tourism, Arts and Heritage estimates. Those tourism dollars could represent as much as 7 percent of the state's $163 billion gross state product.
The 2010 travel and tourism dollar figure, an increase of 5 percent over 2009, includes both direct expenditures such as lodging, meals and shopping by visitors as well as in-state expenditures by people who are employed in the travel and tourism industry.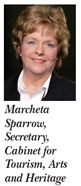 Cabinet Secretary Marcheta Sparrow in a statement released last May said tourism and travel were the source of 169,258 jobs in the state in 2010, up more than 2,600 from 12 months earlier.
Those jobs generated more than $2.5 billion in estimated Kentucky wages, and tourism generated $1.188 billion in tax revenues for local and state governments.
State officials are actively working to build the sector.
Earlier this year, the Department of Travel and Tourism launched the "There's Only One" media campaign to emphasize that the commonwealth is laden with easily driveable destinations that don't require a $200-a-night hotel room, a $650 plane fare or $75 admission ticket. The department has earmarked $1.3 million – nearly half its $3 million marketing budget for 2012 – for the campaign, according to Gil Lawson, communications director for the Cabinet of Tourism, Arts and Heritage, parent agency of the department.

"It's a very warm advertising campaign (and) has a good call to action," said Sparrow. "We think it kind of sets Kentucky apart – There's Only One – things you can't find anywhere else.
"A lot of states have caves, but no other state has the largest cave system in the world with Mammoth Cave National Park.
"A lot of states have museums, but no place has the world's largest baseball bat," Sparrow said, referring to the 120-foot-long specimen leaning against Louisville Slugger museum in Louisville.
"No one else has Muhammed Ali. No one else has Kentucky Fried Chicken – and the Colonel," she said, referencing Muhammed Ali Center in Louisville and the global KFC restaurant chain whose roots originated at Harland Sanders' Corbin service station in 1930. "Lots of communities have things that are one of a kind."
The state is very conscious of change in the industry, Sparrow stressed, and is concentrating much of its marketing on the Internet and social media, especially influential Facebook.
Also evolving is an effort to satisfy a growing demand for non-"passive" attractions.
"We are still in the development phase of adventure tourism. We're seeing a lot of tourism development around that," Sparrow said in a recent interview. "We've had two or three zipline adventures come online in the past year, and there's a lot of buzz on trail development for horseback riding and hiking and biking. We're also working hard on what we call 'blue water trails' – canoeing and kayaking opportunities all across the state."
Bourbon packs a tourism wallop
One of the 31 "There's Only One" attractions may be unique for its admonition that it should be experienced "responsibly."
The Kentucky Bourbon Trail, which links six Central Kentucky distilleries for a two-day tour, and its independent Louisville offshoot – the "Urban Bourbon Tour" – are part of what the state refers to as "Bourbon Country," an umbrella term that covers the explosive growth of "bourbon tourism" throughout the commonwealth.
"The Bourbon Trail has so much potential, and it's becoming so popular. It's something that is really having an impact in the areas it touches," Sparrow said.
Interest extends far beyond the state, especially since CNN International in February selected the trail one of "10 Classic American Experiences," a designation shared with iconic attractions such as a road trip on U.S. Route 66, enjoying jazz in New Orleans, or a grandstand seat for a NASCAR race.
"This is helping to change the face of the Kentucky tourist overnight.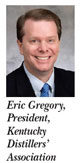 We're becoming known as the Sonoma of the South," said Eric Gregory, president of the Kentucky Distillers' Association. The Sonoma reference is to California wine country tourism that has become a multibillion-dollar industry. Interest in the Bourbon Trail that KDA created in 1999 has grown so quickly that distillers in January hired a manager to oversee it, Gregory said.
Gov. Steve Beshear called the industry "a homegrown gem and a bright spot in a struggling economy" at a February news conference unveiling a KDA study of bourbon production's impact on the state economy. Louisville Mayor Greg Fischer said bourbon "isn't just a drink anymore. It's a culture, a lifestyle and an essential part of our tourism efforts."
In 2011, 450,000 people visited at least one of the six stops, said Adam Johnson, the new trail manager.
"We're on an upward trajectory. The numbers for January (2012) were 51 percent over January of last year," Johnson
said.
Many visitors express interest in the esoteric art of bourbon making and a connoisseur's knowledge of the distinctive flavors of each distillery's inventory. But it's clear some tourists are just looking for an opportunity to drink bourbon.
"One guy who called from New York said he was planning to bring a motor coach for a bachelor party," Johnson said.
In 2007, KDA created a promotional passport and promised free T-shirts for anyone collecting official stamps from each trail distillery. Roughly 200 people completed the circuit the first year, Gregory said, but by 2011 that number had exploded to nearly 12,000.
The financial analysis for the distillers' group estimates about 25,000 people filled passports the past four years, creating an $18.5 million economic impact.
Authored by University of Louisville economist Dr. Paul Coomes, the study reports the distilled spirits industry's value at about $1.8 billion in 2010 – more than 1 percent of that year's $163.3 billion "gross state product" and more than twice the 1997 figure.
From 1999 to 2010, bourbon production more than doubled to 787,000 barrels, according to the association, which also likes to mention Kentucky has a bourbon inventory of 4.7 million barrels compared to a population of just more than 4.3 million.
Mild winter bodes well for 2012
Although a variety of state sources identified travel and tourism as the No. 3 industry in Kentucky, there is less certainty about which industries rank above tourism. One state source pointed to U.S. Department of Labor research indicating the broad category of "Trade, Transportation and Utilities" (364,700 jobs) is the commonwealth's largest economic sector, followed by "Educational and Health Services" (255,700). However, economic impact figures were not available.
Secretary Sparrow and cabinet spokesman Lawson said they do not have a list of the top 10 attractions in the state.
It's safe to assume, though, that the biggest event every year is the Kentucky Derby and the Kentucky Derby Festival that leads up to it, Sparrow said. A study released in January by the festival's organizers said that two-week event has an economic impact of $128 million. No dollar figure was available on the value of the Derby itself.
The economic impact report for 2011 was still being compiled last month, Sparrow said. But despite economic struggles throughout the country, she believes Kentucky's travel and tourism industry will show modest growth for last year.
"From all indications, we think we are probably going to be up a bit, not a great deal," she said. "We had a really good winter in terms of travel – the best three months of visitation and revenue that we've seen in the past five years."
The mild winter, Sparrow pointed out, was an important factor in the strong numbers for months that are typically the doldrums for tourism and travel.
She was cautiously optimistic about growth for 2012.
"All the indicators look good for the year," said Sparrow. "I think our tourism industry remains strong in the heart of the country. A visit to Kentucky is very economical. Our tourism attractions have maintained their attendance; our hotel occupancy has stabilized and grown at a good rate.
"However, the big unknown factor for Kentucky this year is the price of gasoline. We do not know how that will affect our tourism economy."
The industry tends to thrive on upbeat attitudes.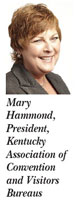 Mary Hammond, president of the Kentucky Association of Convention and Visitors Bureaus, also voiced optimism for the 2012 tourist season. "I saw something the other day that said we have gone from (customer attitudes of) 'We can't,' to 'We shouldn't' to 'We're out of here' with our travel plans," said Hammond, who is executive director of the Paducah Convention and Visitors Bureau.
For example, she said, preliminary registration numbers for one of the biggest events in her region, the American Quilter's Society show in late April, are running ahead of last year's pace for an annual event that revolves around Paducah's National Quilt Museum.
Hammond also stressed the importance of online marketing.
"People are very savvy today because of the Internet and they want to be assured of the quality of the attraction – make sure that what's advertised is really there," Hammond said. "And people are looking for value-added attractions. Everybody wants to make sure that they're getting something good for their dollars."
That includes commonwealth tourism officials.
In February, they quickly canceled a $180,000-a-year contract to promote travel to Kentucky in the United Kingdom when London-based Gosh P.R.'s website was found to include inaccurate information and suggest a game of "Roadkill Bingo" –recording the number of dead animals along the highway – as entertainment for visiting motorists. Gosh compounded its poor decision-making with promotional references to unflattering stereotypes. Tourism Commissioner Mike Cooper resigned his state post after news that Gosh P.R. had paid $735 of his expenses during an unofficial visit to London last June.
Pent-up demand, but watch gas prices
After a recession that's been painful for many Americans, travel and tourism business officials believe there's pent-up demand to get out of town.
"A lot of people feel that they want to take the vacation that they are due – that they have worked hard for the last four years," said Kay Berggren, president and CEO of the Kentucky Travel Industry Association.
Today's Baby Boom generation and their children have different expectations than their parents, who "didn't travel because they saved," Berggren said. "This generation believes it is their right (to travel). It's part of who we are."
Attendance last October at the Kentucky Travel Industry Conference in Lexington indicated optimism in the industry for 2012, she said. Nearly 450 people participated, a sharp 41 percent increase from four years earlier when recession doom and gloom limited attendance to 318.
Sparrow's guarded optimism about the 2012 season mirrors that of the Washington, D.C.-based U.S. Travel Association, which tracks the industry and lobbies on its behalf.
"Recent news generally paints a more positive economic picture, although some uneasiness remains," the association stated in its monthly outlook report for March. "As we head into the spring and the heavy summer travel booking season, all eyes will be on consumers'
leisure travel plans. Will rising gasoline prices reverse positive attitudes and intentions developing among would-be travelers? Stay tuned…"
Sparrow said Kentucky doesn't routinely measure itself against other states' tourism revenues because it's difficult to find apples-to-apples comparisons. States with big populations and big cities and major national parks have a huge advantage. It should be no surprise that California, Florida, New York and Texas rank one through four in the travel association's report on travel and tourism spending. But Illinois, a state that seems bereft of must-see attractions, edges out Nevada (Las Vegas) for a fifth-place ranking, primarily because of business and leisure travel to Chicago, the country's third largest city.
According to the U.S. Travel Association, Kentucky ranks 29th in terms of travel-tourism revenue with about $7.3 billion for 2009, the most recent year the association has analyzed. California was the clear No. 1 with $89.2 billion in expenditures while Delaware came in last with $1.4 billion.
zp8497586rq

On the Road to Growth
Kentucky's $11 billion travel and tourism industry has a 'unique' plan to meet pent up demand
America's Best-Run Bank?
Steady growth and a conservative approach lead Republic Bancorp to the top of a national listing
An Extended Bottom
Kentucky construction contractors compete hard for jobs; manufacturing, multi-family housing show improvement
Cost Competition for Care Providers
Kentucky firm markets software tool allowing price comparisons for healthcare bargain hunters
Avoiding Future Shock
With utilities' help, Kentucky business and industry invest in energy efficiency to keep costs competitive
One-On-One: Mary Pat Regan
AT&T Kentucky President Mary Pat Regan discusses the company's services, future growth and planned capital investment in Kentucky