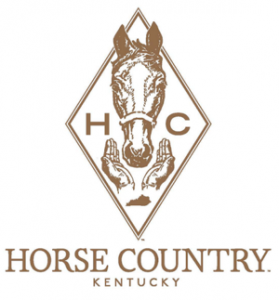 LEXINGTON, Ky. (May 14, 2018) – Spy Coast Farm, a show jumpers breeding and training facility located adjacent to the Kentucky Horse Park, is the first sport-horse operation to join Horse Country Inc., an organization created in 2014 to facilitate experiential equine tourism for visitors to Central Kentucky. Owner Lisa Lourie is dedicated to the breeding and development of warm blood horses here in America for the jumping disciplines. The members of the board of Horse Country, Inc. unanimously approved the application and the farm will begin providing tours in the coming weeks.
"From early days of Horse Country's development, Lisa and her team have been supportive and interested in sharing their passion for the horse. We're thrilled to have them on board," said Horse Country board president Price Bell, Jr., of Mill Ridge Farm and Nicoma Bloodstock. "The Kentucky Horse Park, and related competitive events draw hundreds of thousands of competitors and spectators each year; being able to share the many aspects of the horse industry to guests is an exciting prospect."
Tours at the facility, recently expanded to 800 acres, could include nursery visits with mares and foals, observation of horses in training, and more. Spy Coast Farm is located across the street from the Legacy Trail and may welcome bike groups in the future.
"Spy Coast Farm is thrilled to become part of the Horse Country experience, says Lisa Lourie, owner of Spy Coast Farm. We love to show off our horses and our facility. Promoting the horse industry is very much a part of what our team is committed to, so we are proud to join the Horse Country roster."
"We can't wait to offer experiences with the horses and team at Spy Coast," said Anne Hardy, Horse Country executive director. "The horse unites so many things we're proud of in the Bluegrass, and we know that the starting gate for many fans of sport horse, racing and other disciplines is simply an interaction with one."