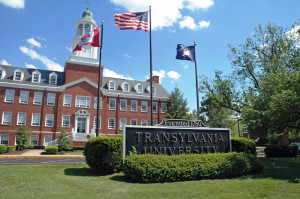 LEXINGTON, Ky. (June 12, 2018) — Transylvania University on Friday received a national award for outstanding efforts to prevent sexual assaults.
The Campus Prevention Network recognized the university with a 2018 Prevention Excellence Award at the annual CPN summit presented by EVERFI in New Orleans. Transylvania was one of five institutions across the nation to receive the recognition.
"The Title IX Office was honored to accept this award on behalf of our institution as a testament to the dedication of our campus community to promote and foster an inclusive, respectful and safe environment," said Amber Morgan, academic disability services and Title IX coordinator.
EVERFI praised the university's dedication to create a safe campus, as well as its "effective education and prevention initiatives."
Transylvania regularly educates students, faculty and staff about assault prevention and encourages them to speak out when they encounter high-risk situations.
According to EVERFI, the university stood apart from more than 100 institutions in critical areas. The assessment considered factors such as scores from the Sexual Assault Diagnostic Inventory, interviews with campus professionals and a review of Transylvania's prevention efforts. "This achievement is also a testament to (Transylvania's) investment in creating a campus environment in which students can live, learn and thrive."
Laura Bryan, vice president for academic affairs and dean of the university, is committed to building upon these achievements. "We continuously strive to provide the safest possible environment for each of our students to not only learn but also develop as a whole person," she said.
Located in the heart of downtown Lexington, Transylvania is ranked in the top 15 percent of the nation's four-year colleges by The Princeton Review, which cites its community-driven, personalized approach to a liberal arts education through 41 majors. Founded in 1780, it is the 16th oldest institution of higher learning in the country, with nearly 1,100 students.