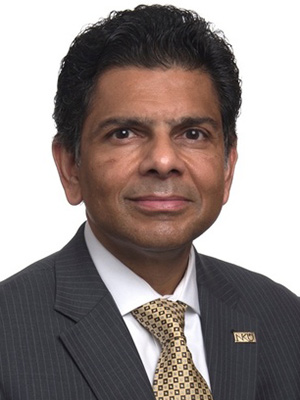 HIGHLAND HEIGHTS, Ky. (July 2, 2018) — Northern Kentucky University's sixth president Dr. Ashish Vaidya kicked off his presidency on July 2 surrounded by the campus community. Nearly 100 faculty and staff gathered at a welcome breakfast to mark President Vaidya's first day on the job.
NKU announced President Vaidya as the next leader of the university in November 2017. Dr. Vaidya completed his term as interim president of St. Cloud State University in Minnesota in June and is looking forward to what lies ahead at NKU.
"I am excited to join all the wonderful things happening here at NKU, from the sense of innovation and entrepreneurship, to the great public-private partnerships," said Vaidya. "This morning was a great way to begin my presidency, celebrating with the faculty and staff that are the driving force of this university."
President Vaidya takes the reins from Gerard St. Amand, who served as NKU's interim president for the past 14 months. St. Amand postponed his retirement to lead the university when former president Geoffrey Mearns left at the end of his contract.
Prior to serving as St. Cloud State's interim president, Vaidya served as provost and vice president for academic affairs at St. Cloud State from 2015-16. Previously, he served California State University, Los Angeles, from 2010-15 as provost and vice president for academic affairs, and as special advisor to the president for regional economic development. He also served California State University Channel Islands as dean of the faculty from 2005-10, as the MBA director from 2003-05, and as founding director of the Center for International Affairs from 2004-06. Prior to that, he served as the MBA director for California State University, Los Angeles, from 1997-2001. He has served on the faculty of both California State University, Los Angeles, and California State University Channel Islands.
Vaidya holds a bachelor's and a master's degree from St. Xavier's College (Mumbai, India), and a master's and a doctorate from University of California, Davis. He is married to Nita Vaidya, a sociologist. They have two children: Jaanhvi, a management consultant with Accenture; and Avaneesh, a recent graduate of the University of Arizona.
President Vaidya joins the university as NKU celebrates its 50th Anniversary, opens the Health Innovation Center and engages in new projects such as the partnership with St. Elizabeth Healthcare and the UK College of Medicine to establish a northern Kentucky medical campus.