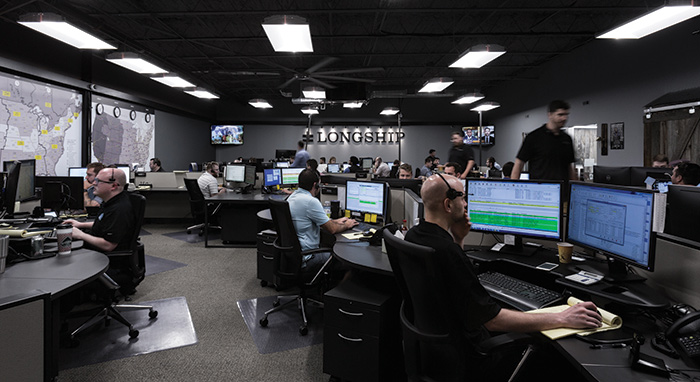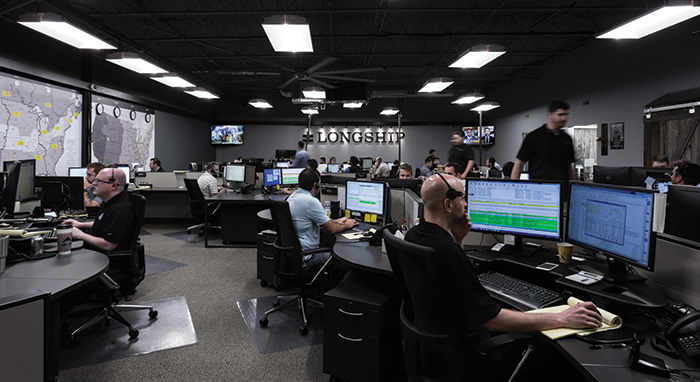 The avocado on your salad didn't show up in Lexington all by itself. It was tracked every step of the way from the farm in California to when it was delivered to your favorite restaurant. Those trucks on I-64 and I-75 are more than basic transport – they are connected nodes on the "internet of things," delivering information on shipments moving everything from produce to auto parts to consumer electronics.
Technology is transforming the transportation industry, and Kentucky companies are plugged into the latest developments.
Overall, the logistics and distribution sector employs more than 60,000 people at 500 facilities. And it spins a whirlwind of activity across the commonwealth. The UPS Worldport at Louisville International Airport processes more than 1.5 million packages each day. FedEx and DHL operate at Cincinnati/Northern Kentucky International Airport (CVG) as well as numerous other locations across the state. Amazon's planned Prime Air shipping hub at CVG in Hebron will create about 2,700 new jobs supporting the company's 11 fulfillment centers in the state. The hub will handle up to 200 daily flights to and from the airport.
Behind the headlines of the big brand-name companies, smaller regional companies are leading the way in using technology to gather and share information among truck drivers, shippers and logistics managers.
Customers demand visibility
Perhaps the most significant technological change is the demand for visibility into the whereabouts of shipments on the road. Some of that is driven by new food and pharmaceutical safety rules that require companies to be able to track the chain of custody from factory to store. Automotive companies are well known for their devotion to just-in-time delivery of parts to assembly lines. More companies keep moving in that direction to streamline operations and reduce inventory.
"The shippers we work with want to know exactly where their shipment is and when it will arrive, and they have increasing expectations on ETAs for their shipments," said Kerry Byrne, president of Cincinnati-based TQL Logistics, the second largest freight brokerage in the country. "It's our job to make sure our technology provides shippers with timely information and analytics, while also allowing us to anticipate and identify problems, secure solutions and communicate to our customers in real time."
It's likely that some of those avocados on your salad were tracked on their journey by Lexington-based Longship, a provider of third-party logistics, also known as a 3PL. A 3PL is an outsourced transportation and logistics provider that shippers and receivers use to manage their supply chain. Some 3PLs own their trucks and warehouses; others don't own assets at all. A 3PL may simply act as a broker, making arrangements for freight to move on trucks. Many also provide warehouse and fulfillment services or even fully handle a company's transportation needs. For manufacturing clients, some 3PLs deliver components directly to the assembly line.
After graduating from Xavier University in 2010, Lexington native Kenny Schomp worked for a large regional logistics company for six years. In 2015, he and business partner Will Holton started their own business, Longship, which is experiencing rapid growth.
About 70 percent of the company's 20,000 loads per year is produce, historically a demanding cargo because of the chance of spoilage along the route. Account managers match shippers of watermelons, berries, potatoes and onions among other items with trucks ready to move in the right direction. A shipment of avocados from California has to move to the East Coast within five days to deliver a fresh product.
The account managers book freight loads all day long in the company's high-tech call center, with each person using two computer monitors to manage email, transportation management systems, routing software, maps and other tools.
"We are really a high-tech call center, and we're in the logistics field," Schomp said.
Longship uses a technology called Beacon that receives location updates from a driver's cell phone. After the driver opts in, the Beacon service regularly pings the driver's cell phone location and delivers an email to the Longship account manager every morning. The manager then updates the customer by 9 a.m. each day.
"We can see that the driver moved 600 miles yesterday and the truck is on schedule," Schomp said. "The drivers like it, too, because we don't have to call them every morning for an update."
TQL uses GPS location tracking to keep tabs on shipment locations. The company gives access to the information to shippers and carriers via online portals.
"QL TRAX, our proprietary web portal and mobile app, integrates with our internal load management software in real time, so customers can get the most recent information about their shipment or any paperwork associated with their shipment whenever they want it," Byrne said.
Drivers use a similar online tool, the TQL Carrier Dashboard, to view information about loads that are available to them and to submit quotes and status updates on active loads. The tool also helps them get paid faster, Byrne said.
Fleet telematics drive big data
Today's freight moves by data as much as it does by truck tires. Shipments are tracked, temperatures for refrigerated cargoes are monitored, and trucking rates are constantly adjusted to reflect supply and demand.
The logistics companies are helping their clients tame the flood of big data that can deliver insights if you have the tools and knowledge to handle it.
"Data analytics is a way we can add value to shippers' supply chains, especially when applied to reduce risk," Byrne said. "The more we can make recommendations on how to route freight, schedule shipments, optimize loading and unloading, and alert customers to signs of trouble, the more we will be perceived as true supply-chain partners."
Walton-based 3PL Verst Logistics uses the data to develop key performance indicators to track costs and performance.
"We continually analyze the data and offer opportunities, such as comparing two routes and perhaps combining routes to eliminate a shipment," said Tom Morris, director of transportation. "With all of this information, we're offering better supply-chain management for our customers."
Click to ship
As a 3PL founded in 2016, Bowling Green-based Stryker Logistics serves customers in the automotive sector and supports major events such as the Super Bowl, PGA and LPGA golf tournaments, and the Kentucky Derby.
The company stores and hauls the myriad items that transform a golf course into a sports venue, such as tents, bleachers, chairs and hundreds of other pieces. It was becoming difficult to keep track of all the inventory and communicate with customers about exactly which items were needed at which location.
That's when owner and President Fuji Advic decided to build the company's proprietary virtual inventory management system. Previously, each item was assigned a product ID number, which had to be looked up. It could be difficult to find an object in the warehouse and in addition, shippers didn't know how many items could fit on a truck.
"Our customers would say they want a certain white chair, but it was hard for us to make sure we had the right white chair," Advic said.
Advic's team compiled photos and information for each item – size, weight, color, how much space it takes on a truck – and loaded the data into the custom software.
Now customers can click on photos of items and adjust quantities as needed. The system will show them how much of each piece they can fit on a single truck.
"It's like online shopping, but our customers are selecting their own stuff for their shipments," Advic said. "Instead of clicking to add an item to a shopping cart, they click on the 'Add to Truck' button."
Stryker stores the items in its network of warehouses.
"It's like a warehouse in the cloud for our customers. They don't have to worry about where their items are stored; they can retrieve it and use it anytime they need it," Advic said.
Stryker's automotive customers like it because they can maximize the freight going on a truck.
"Our customers love it, and it's an easy system for them to use," Advic said.
Electronic logs transform trucking
Onboard technology took another step forward with the mandate for electronic logging devices (ELD) on trucks. Starting Jan. 1, 2018, most commercial long-haul trucks are required to be equipped with an ELD that connects to the truck's engine to record the time the vehicle is in motion.
This device replaced the paper logs used by truckers for years, in which drivers had to keep track of their activities in 15-minute increments. However, some truckers falsified their logbooks, allowing them to drive longer than the federal hours of service regulations allowed. Driver fatigue was blamed for a number of highway accidents and fatalities, so the Federal Motor Carrier Safety Administration (FMCSA) mandated electronic devices to record the driver's activities in a secure digital format.
The upside will be safer highways and electronic tracking of drivers and truck.
The downside has been a tightening of capacity, as drivers must stop when their 11 hours of driving time are up. Before the electronic devices, drivers might have driven for an extra hour or two make it to the destination. Now, they have to park the truck before their allotted hours expire.
The ELD mandate has been partially responsible for a capacity shortage and resulting rate increases for trucking. The American Trucking Associations reports the industry is short 50,000 drivers, and as current drivers leave the workforce, the shortage could reach 175,000 by 2024.
Depending on the sophistication of the ELD, trucks can provide real-time location and activity updates for shippers through functions known as fleet telematics.
Verst Logistics installed ELDs in the cab back in 2006, Walton said, so they experienced the learning curve years ago.
"We went ahead with the ELDs because of what the telematics could do, such as exchanging the data from the tractor with the central dispatch office," Morris said.
The devices that Verst installed monitor a range of driver and truck activities, such as miles per gallon, speed and braking, as well as location information through geofencing. Using GPS geofencing allows the device to automatically recognize where the truck is located and whether it's moving. Drivers can share information about a destination, such as a hard-to-back-into loading dock, and tag it with the geofencing capabilities. When other drivers are directed toward that same location, they will be warned ahead of time. The geofencing system automatically sends an alert when a driver enters a shipper's yard and records how long the truck waits to be loaded.
"With the hours of service rules, it's very important that you run as efficiently as possible during any given day, so you're following the guidelines of the FMCSA," Morris said.
Each Verst truck is equipped with inward-facing and outward-facing cameras.
The cameras promote safe driving practices such as safe following distances and seatbelt usage. Managers review the camera footage to help drivers operate safely and manage fuel efficiency.
"We look at a hard-braking situation to see what happened, and we'll look at why a driver was getting only 6.5 miles per gallon compared to another tractor on the same route getting 7 miles per gallon," Morris said.
High demand for drivers
Verst sends out a weekly email listing the top 10 and the bottom 10 drivers' miles-per-gallon performance for the previous week.
"We are promoting good driver behavior, so this information builds a competitive spirit among the drivers to see their tractor number on the top 10 list," Morris said. "We get a lot of good information; you have to make sure you act upon the data and don't just let it sit here."
The ELD mandate has exacerbated the long-running driver shortage in the industry.
"A driver can no longer guarantee a 400-mile shipment in one workday," Byrne said. "If they are held up at the shipper, hit traffic, or are rerouted due to weather, it's likely they will run out of working hours before the shipment is completed."
Some industry experts say eventually ELDs will help increase capacity as trucking companies can better manage their fleets.
"ELDs and telematics help us address the driver shortage by allowing us to mine and analyze our historical shipping data and intelligently source carriers for our customers' loads, giving us access to greater capacity," Byrne said.
But some drivers don't like learning new technology and may leave the industry altogether. However, after drivers make the switch to driving a truck with an ELD, they don't want to get back in a truck without one.
"If they have to drive a short-term rental truck, we have drivers that are not interested in getting in it because of just how well the ELDs work," Morris said.
Verst recently purchased 18 new tractors to give drivers the latest equipment and is developing career programs that give drivers a choice of routes so they can be home more often, Morris said.
"The drivers are the face of our company because they're the ones consistently at the shippers and receivers, so we put a lot of effort into making sure that we're getting a high-quality professional truck driver," Morris said.
Advic agrees. "The best way to recruit drivers is to take care of them," he said. "Drivers talk to each other, so they'll let other drivers know how well you're taking care of them."
Platooning in the future
Despite the current headlines about self-driving trucks, drivers are expected to be in the picture for the next few decades. In the meantime, though, platooning technology could change the way drivers work on a daily basis.
Platooning allows two to three trucks to be electronically connected and driven closer together than humans can handle: 50 to 80 feet apart at highway speeds compared to 160 to 240 feet recommended for human drivers. The aerodynamic benefits can save 4 percent or more in fuel, which adds up over the 100,000 miles a year traveled per truck.
At first, it may be between two to three trucks owned by the same company that would connect for open highway segments of the run, and the driver would take command for the rest of the trip. Eventually, a single driver could manage three trucks platooned together. The driver would still have to back the truck in the loading dock. That's a skill that's beyond even the smartest artificial intelligence for now.
Fully self-driving trucks are being tested by tech companies such as Uber and Tesla, and truck manufacturers including Volvo and Daimler are experimenting as well.
Some limited truck testing has shown positive results. For example, startup Embark has tested autonomous trucks – with a driver on board – running freight for 650 miles on Interstate 10 between Texas and California.
But life on the road can be unpredictable, and the technology at this point isn't ready for prime time.
"There are self-driving cars having accidents, so we're not anywhere near ready to trust that technology in an 80,000-pound truck and trailer," Schomp said.
---
Gary Wollenhaupt s a correspondent for The Lane Report. He can be reached at [email protected].