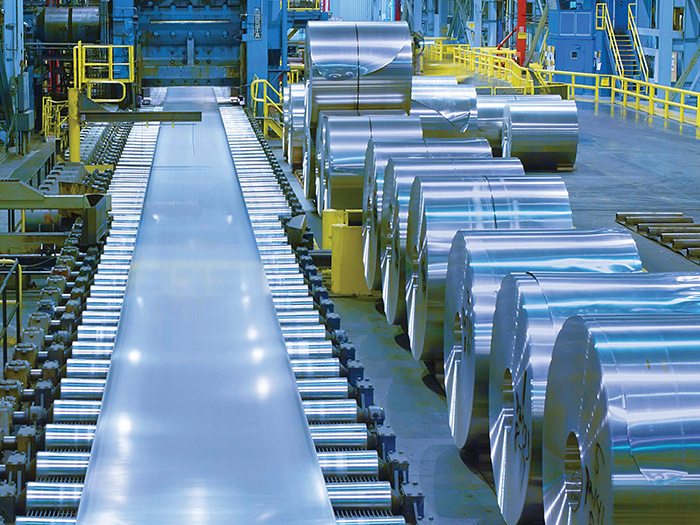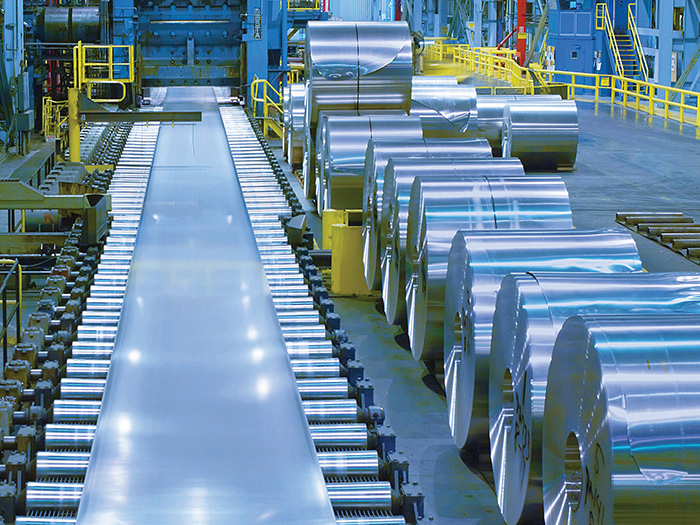 When you spend less for gas this summer because your lightweighted car, SUV or truck is more fuel-efficient, or enjoy a canned beverage as your food grills in foil, or use any of many products made of a certain shiny metal, you can thank a quiet industry with a large footprint in the Bluegrass State: aluminum.
It probably will come as a surprise to most that it's the aluminum industry in its many forms that is driving some of the biggest growth in the state's economy.
A report from the Aluminum Association ranks Kentucky No. 1 nationally in per capita aluminum jobs, with Indiana and Iowa being a distant second and third, respectively. According to the Kentucky Cabinet for Economic Development, there are nearly 200 aluminum-related companies in Kentucky.
Since the beginning of 2014, aluminum-related companies have announced about 100 new facility or expansion projects in Kentucky, totaling upwards of $3 billion in corporate investment and creating over 3,050 full-time jobs to bring the industry's surging employment to more than 20,500. The investment is well above the approximately $1 billion total from 2001 to 2013.
---
Sign up for The Lane Report business newsletter. Receive breaking Kentucky business news and updates daily. Click here to sign up
---
Aluminum, the third most abundant element on the periodic table, may not be as sexy as bourbon and Thoroughbreds, but the industry is booming in Kentucky and shows no signs of slowing.
The sector is broad, consisting of smelters, recyclers, rolling mills, injection molders, extruders, die-casters, machine shops and companies manufacturing a galaxy of finished products, including Reynolds Consumer Products in Louisville.
Aluminum is a widely used, attractive industrial material, and compared to alternatives such as steel and copper, it is lightweight, has a high strength-to-weight ratio and is resistant to corrosion.
The use of aluminum in a wide variety of applications continues to grow due to several factors, including urbanization in emerging economies, economic recovery in developed economies and an increasing global focus on sustainability.
But Kentucky's explosive growth in aluminum is mostly tied to its outsized role in the automotive industry and its location between the automotive manufacturing hotbeds of the Midwest and South.
"The aluminum boom is almost completely driven by auto-industry demand," says Jack Mazurak, communications director for the Kentucky Cabinet for Economic Development. "Why Kentucky is the epicenter of it, though, can be summarized by three factors.
"One, geographical and infrastructure advantages. Two, improvements to Kentucky's business climate. And three, the scope of the state's existing aluminum and automotive supply industries, which create efficiencies for both new companies looking to join it and expansions of existing facilities."
The improvement in business climate under Gov. Matt Bevin, a businessman himself, includes Kentucky becoming a right-to-work state in January 2017. That designation means unions can't require people to pay dues as a condition of employment at companies where they have collective bargaining agreements.
Fiona Bell, director of communications and government affairs for Novelis North America, cited Kentucky's friendly-to-business approach as one of the factors Novelis found attractive that led to its decision, announced in January, to invest $300 million in an automotive aluminum finishing plant in Guthrie.
"(Kentucky has) strong leadership," Bell said. "We are building a solid partnership with the state and the congressional delegation. The business-focused government leaders in Kentucky played a significant role in making the location an attractive investment. Gov. Bevin, the Kentucky Cabinet for Economic Development and its network of in-state government and businesses have made the state's pro-manufacturing and growth agenda clear."
Kentucky also has access to the Ohio and Mississippi River – integral shipping channels for the bulk raw materials in aluminum production – and the state offers the lowest-cost industrial electric east of the Mississippi River.
As for the automotive piece of the puzzle, under federal mandates to reduce emissions and improve fuel economy, a key automaker strategy is to cut mass. Auto manufacturers are achieving that, in part, by using more lightweight aluminum body panels, suspension components, under-hood mechanical bits and structural pieces. Vehicle-maker demand is driving investments by primary aluminum producers and aluminum auto-parts manufacturers in Kentucky.
Aluminum safer in crashes
The commonwealth already ranked first in the U.S. in vehicle production per capita and third overall, but with its numerous advantages, Kentucky attracted more than $4.3 billion in publicly announced investment and 4,500 new jobs in its automotive industry in 2017. That's a sizable slice of the state's record-breaking $9.2 billion in total investment and 17,200-plus new jobs announced across all industries last year.
Mazurak said the state's auto industry includes more than 520 facilities employing 100,000-plus people full-time. The largest of those are Ford Motor Co.'s Louisville Assembly Plant, the Ford Kentucky Truck Plant in Louisville, Toyota Motor Manufacturing Kentucky in Georgetown and the General Motors Corvette plant in Bowling Green.
"A large part of our demand is for automotive aluminum," said Kevin Mays, chief financial officer of Owl's Head Alloys in Bowling Green.
And while increasing use of aluminum to lightweight vehicles is a huge trend, that demand is projected to grow by 30 percent or so over the next five or six years.
By far the biggest aluminum project right now is Braidy Industries' $1.5 billion aluminum rolling mill that broke ground June 1 near Ashland in Greenup County. It will employ 550 people full-time and produce aluminum sheet and plate for the automotive, aerospace and defense industries. The plant's construction will employ an estimated 1,000 people. Kentucky will provide up to $10 million in tax-cut incentives for the project, and the company will receive an up-front payment of $15 million authorized by the state legislature.
The mill is scheduled to be up and running by 2020 and will eventually roll out 900,000 tons of aluminum sheet metal a year. CEO Craig Bouchard says that in three years, 20 percent of cars on the road will have sheet aluminum from the facility. Braidy's headquarters will be in downtown Ashland.
"In my 24 years of public service, (Braidy Industries) is the project I have waited for," Greenup County Judge-Executive Robert Carpenter said after the deal was announced in spring 2017. "This project will change the entire region going forward."
House Democratic Floor Leader Rocky Adkins called it "a launching pad" for the region.
At the June 1 groundbreaking Bouchard said beyond making aluminum, the company's "mission is to rebuild northeast Kentucky and in fact all of Appalachia and other parts of Kentucky with advanced technology."
Despite a major change six months into the planning, Braidy expects to remain on schedule for 2020. In October, the company announced it couldn't build at is original site on the Ohio River in South Shore because it would not support the weight of the mill. Last December, Braidy paid nearly $1 million for 204 acres and a vacant, 110,000-s.f. building several miles inland in the East Park Industrial Center near I-64.
Nickie Smith, chair of the Northeast Kentucky Regional Industrial Park Authority, said in December that Braidy will probably have to spend another $8 million reclaiming and stabilizing the former strip-mining site.
Bouchard says he chose Kentucky over 24 other states, and a major factor was the right-to-work legislation passed in January 2017, along with the state's "willingness to partner closely with private industry."
Besides Braidy, here are some other recent large-scale aluminum-related projects in Kentucky:
• Novelis broke ground in May for a $305 million plant to process flat-rolled aluminum coils for use in automotive body panels. The plant, being built in Guthrie in southwestern Kentucky's Todd County, will open in 2020 and will heat treat and pretreat automotive-grade rolled aluminum coils from nearby Logan Aluminum in Russellville. It will create 125 new jobs and be the company's first new U.S. facility in nearly 30 years. Last year, Novelis announced an expansion of its Central Kentucky recycling operation in Berea, which employs 130 people.
"Our 34-year history in Kentucky has proven to us that we can hire and develop a strong and highly skilled workforce," Bell says. "We employ 1,200 in the commonwealth (in Berea and Russellville). Several automotive customers that are using more and more Novelis aluminum have operations in the region."
To keep production costs down and reduce waste, many manufacturers use recycled aluminum as their primary source material. According to the Aluminum Association, that reduces energy consumption by 92 percent and thanks to aluminum's unlimited recyclability, nearly 75 percent of the aluminum ever made globally is still in use today. Aluminum can be recycled repeatedly without any material decline in performance or quality.
• Owl's Head Alloys, the aforementioned secondary aluminum recycling facility in Bowling Green, recently began a $3 million expansion with the aid of tax incentives from the Kentucky Economic Development Financial Authority that will create as many as 17 jobs.
Owl's Head is a notable exception from many of its contemporaries because its leaders chose to locate in Kentucky primarily for one simple reason: owner and President David Bradford is a Bowling Green native.
However, Mays pointed out that Owl's Head's site is indeed a perfect fit due to availability of affordable commercial property, proximity to potential customers and cost-effective transportation via rail and road.
"As the aluminum industry continues to grow nationwide, the selection of our location in Kentucky almost seems to have been prophetic," Mays said. "Our immediate access to interstate and rail transportation has enabled us to respond to the market faster than most competitors, allowing us to meet growing customer needs more rapidly."
A report earlier this year in Recycling Today called Kentucky "the geographic center of the majority of secondary aluminum producers in North America." And as Bradford is fond of saying, "a rising tide raises all ships."
• Century Aluminum is investing $116 million in upgrades at its smelting facility in Hawesville near Owensboro, adding 250 full-time jobs while training new and existing employees to use the new equipment. The Hawesville operation produces high-purity metal required for the defense, aerospace and electrical industries.
• Aleris Corp.'s opening last November of its $400 million mill expansion in Lewisport is a prime example of the rapid rise in aluminum investment tracking alongside automotive growth.
"Our Lewisport facility has been in the community for more than 50 years, so we have a long history of doing business there," said Jason Saragian, director of communications for Aleris. "We have a strong and talented workforce and the central location of Kentucky is a perfect spot logistically for all North American vehicle producers."
The three-year project in northwestern Kentucky included installation of two continuous annealing lines and a wide cold mill, providing the technology and additional capacity to manufacture high-quality rolled alloy sheet for the automotive industry.
Aleris is a relatively young company, formed at the end of 2004 through the merger of Commonwealth Industries Inc. and IMCO Recycling Inc. The merger created a vertically integrated aluminum company traded on the New York Stock Exchange.
• Logan Aluminum cut the ribbon on a 190-job, $283 million expansion of its Western Kentucky mill in October 2017 and simultaneously broke ground on a $125 million second phase.
Although the new mill primarily produces rolled sheet for beverage cans, lids and pulls, its newly completed Phase One project includes equipment to produce thicker, higher-grade sheet for automotive use.
The Phase One expansion centered around a new 280,000-s.f. building capable of producing 600 million pounds of cast ingots a year. The second phase is a $125 million cold-rolling mill expected to create 60 full-time jobs.
• Tri-Arrows Aluminum also opened a $175 million expansion of its cold rolling and ingot casting facilities in October 2017 at the Logan Aluminum plant in Russellville. At the same time, the firm broke ground on a new $240 million project to produce aluminum sheet for the automotive industry. The investments will bring more than 200 new jobs to the region.
• Kobe Aluminum Automotive Products announced a $53 million expansion of a facility in Bowling Green in April 2017 to meet the rising domestic demand for aluminum forged suspension products. Once complete, the full facility is expected to support around 600 jobs.
Versatile and widely used, aluminum seems to have unlimited potential. And that is very good news for Kentucky, where the business outlook overall is exceptionally bright after a record announced business investment of $9.2 billion in 2017.
The Braidy project was announced as one that will create ripples of further impact in the region.
"We are just getting warmed up," Gov. Bevin said during the recent flurry of aluminum activity in Kentucky.
And there's certainly no reason to believe the commonwealth won't continue to be one of the hottest players in the aluminum game.
---
Russ Brown is a correspondent for The Lane Report. He can be reached at [email protected].