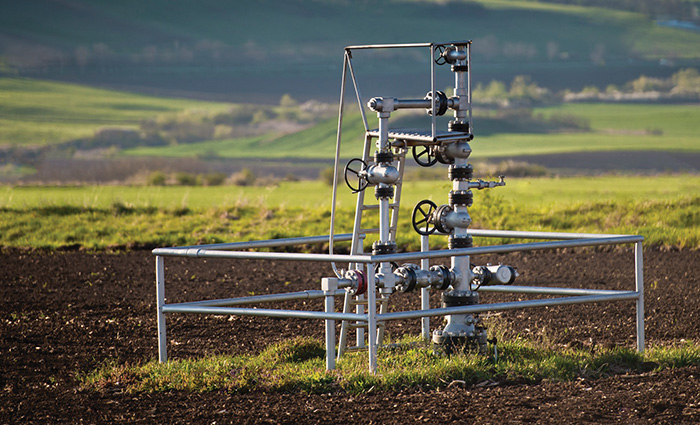 With the past decade's advent of horizontal drilling and fracking – known as the "shale revolution" – and the interest in "wet gas" whose more complex hydrocarbons have become marketable today, the natural-gas industry in the Midwest region has seen an uptick. This continues to be one of the reasons our region has the cheapest energy in the country.
Although 83 percent of Kentucky's net electricity generation in 2016 was coal-fired, a record 10 percent was natural gas-fired. This is a significant one-year increase – 42 percent – in natural-gas generation, up from 7 percent in 2015, according to the U.S. Energy Information Administration. 
Surprisingly, there are 16,074 natural-gas-producing wells in 33 gas-producing counties, mostly within Eastern Kentucky according to Kentucky Geological Survey at the University of Kentucky. The top producing counties include: Floyd (64 billion cubic feet); Pike (31 bcf); Clay (13 bcf); Knott (12 bcf); and Letcher (11 bcf).   
What remains worthy of note in Kentucky is that companies and corporations benefit from the low-cost natural gas resources here and even more energy efficiencies with demand response, explained Sheila Porter, senior business development manager of Direct Energy Business, North America's largest commercial energy provider of electricity, natural gas and solar solutions.
---
Sign up for The Lane Report business newsletter. Receive breaking Kentucky business news and updates daily. Click here to sign up
---
U.S. Sen. Sheldon Whitehouse (D-R.I.) introduced federal legislation in April of this year to stimulate natural-gas demand-response programs, which reward reducing energy use, a model well established for electricity customers. Whitehouse's bill is one of the first pieces of federal legislation that leverages states' success in implementing demand-response pilot programs, which can guard against price spikes for natural-gas consumers and reduce the need to expand natural-gas infrastructure.
"This approach allows for less usage during peak periods," Porter said. "This is particularly useful to hospitals and homeowners who benefit on extra hot days in the summer, for example," she said. 
According to Direct Energy Business, some manufacturers in Kentucky have taken interest in direct feeds from the natural-gas pipelines, particularly aluminum plants in the west. Braidy Industries, which broke ground June 1 on a $1.5 billion aluminum rolling mill in Greenup County in northeast Kentucky, stands to benefit as natural gas is deregulated and not expensive. For a large manufacturer, like Toyota – which uses roughly 2 million decatherms (1,000 cubic feet of natural gas) at its plant in Georgetown versus a homeowner at 50 decatherms – this is an important distinction, Porter said.
Meanwhile, the natural-gas liquids – ethane, propane, isobutene, butane – that are more common from shale production have meant new construction in pipelines from western Pennsylvania and eastern Ohio to chemicals and plastic manufacturers in the Gulf Coast. Kentucky is a pass-through area for NGL pipelines, according to Porter.  Some of this has caused environmental concerns, but virtually none of this has had an economic impact in our state yet. 
Growth and expansion of the area's aluminum manufacturers has been important for natural-gas stability and growth in the region. In fact, for aluminum manufacturers that heat metals, like steel mills and aluminum plants, natural gas is the best solution because process heating is best achieved this way.
Yet, Kentucky is not really a growth area for natural-gas producers and processers. While there is a push near coal fields to find more pockets of natural gas, production has moved out. The largest flows of natural gas are to move it upstream and downstream into the pipeline feeding the Northeast and to the Gulf of Mexico area, where it is in high demand at refineries and chemical plants.
Kentucky has resources for the future
Fracking has been around for 70 years or so, but not horizontal drilling. Tapping shale gas via horizontal drilling changed the game. Kentucky, Ohio, Pennsylvania and West Virginia rely at least 50 percent on fracking for natural gas production.
"What the shale revolution is doing for the U.S. is a long-term game changer.  Electricity (cost) in the U.S. is at an all-time low, when adjusted for inflation, and this has been caused largely by natural-gas pricing," said Ryan Watts, executive director of the Kentucky Oil and Gas Association. "We (the U.S.) are the world's largest producer of natural gas and NGLs. Since 2016, approximately half of the new jobs created in the country were in the energy sector."
The commonwealth has ample resources for the future.
"In fact, Kentucky's oil and gas industry has supported the nation's pursuit of energy independence for more than a century, resulting in continued low energy costs for consumers," Watts said. "Thousands of Kentuckians are either salaried employees or proprietors in oil and gas (and its support industries). Historically, the industry has contributed more than $1 billion in total economic impact to Kentucky's economy. Kentucky's oil and gas industry remains a robust, resilient force that will continue to provide reliable energy for years to come."
Direct Business estimates released in 2012 stated, "Deep veins continue in Kentucky, and we have more than we can use in the next 100 years."
However, gas revenues are relatively flat, Porter said. It is the old question of supply and demand. The focus has remained on the Gulf of Mexico, where people need the natural gas (not the wet gas or NGLs).
Energy markets are global
The natural gas that comes out of the ground in the next five years will find its way to higher-priced markets with less supply, which may include Europe and even Asia. In this modelling, area manufacturers may find they eventually will have to pay more. NYNEX projects out natural gas prices up to 2025, and manufacturers can't contract for gas supplies eight years from now. Generally, gas is traded in 24-month cycles.
Goals to reduce energy needs by at least 10 percent, as well as a move to renewables (i.e., solar) by at least 15 percent, have already begun to change the conversations around natural-gas needs.
In the Northeast and Midwest, some entities have already pushed heavily into solar, including Philadelphia Children's Hospital, Porter said. Diversification in energy resources is considered the balancing act for 2018 and beyond.
"Pipelines are antiquated and contribute to gas leaks. Kentucky has about 50 more years for its current pipeline, and some modernization is underway in Eastern Kentucky with the construction of new compressor stations, moving natural gas to the Gulf," she said. 
Before 2010, most supply was staying closer to home.
Real-time feeds of natural-gas flow, and use allow for future predictions of demand and companies are spending more time managing power because of technological resources.
Some industry consolidation has already occurred. In September 2017 the sale of Delta Natural Gas Co. to PNG Companies LLC, parent of Peoples Natural Gas, was finalized. Delta is headquartered in Winchester and serves about 39,000 customers in 23 counties in Eastern and Central Kentucky. These customers will join the 3,000 customers in 10 Eastern Kentucky counties that Peoples already serves.
"Since Steel River's original purchase of Peoples in 2010, we have tripled the number of people we employ and have more than doubled the customers we are serving. In Kentucky, we will seek out opportunities to expand natural-gas service in Delta's current territory," Peoples President and CEO Morgan O'Brien said in a recent release. 
This is expected to spur economic growth for the region.
Multiple pipeline projects
Earlier in 2016, TransCanada acquired the Columbia Pipeline Group for $13 billion. This created one of North America's largest regulated natural-gas transmission businesses linking the continent's most prolific natural-gas supply basins to top markets, like those in Kentucky in the Appalachia product basin.
While there is no gas pipeline work for this company underway in Kentucky, recent additions in construction include a new natural-gas compressor station in the Grayson area, completed in December 2017. The station is tied to TransCanada Corp.'s $400 million Rayne XPress project to add compressor stations on TransCanada's existing Columbia Gulf system.
The company's Gulf XPress project includes the installation of seven new compressor stations, three of which are in Kentucky (Morehead, Paint Lick and Goodluck). As is typical, the gas transits the state to other regions.
In Bullitt County, LG&E is constructing a new natural-gas pipeline that will support continued residential, industrial and commercial growth in that county.
"Currently, we're conducting the initial survey work to determine a viable route that is the least expensive and best path forward for our customers. While the exact path is still being determined, the line will run from the eastern part of Bullitt County and extend roughly 10-12 miles," said Chris Whelan, vice president of communications for LG&E. 
The company last year completed a project to replace 540 miles of aging steel and iron piping gas main.
Another project in the state to watch for is the Tennessee Gas Pipeline Co. construction of the Broad Run expansion project, which will expand natural-gas transportation capacity on the existing TGP system this month. The project will provide an increase of 200,000 decatherms per day of firm transportation capacity, and includes four new compressor stations, including one in Madison County. The company is also increasing compression capacity by modifying two of its existing compressor stations in Powell and Boyd counties in Kentucky. The project is expected to generate approximately 400 construction jobs at its peak.

---
Dawn Marie Yankeelov is a correspondent for The Lane Report. She can be reached at [email protected]