By Kathie Stamps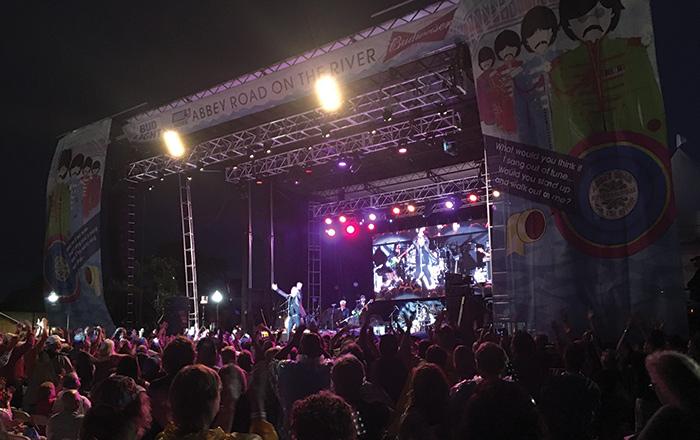 Culture and arts season is year round in Louisville. On any weekend of the year, residents and tourists can take in a show at the KFC Yum! Center, explore art galleries and museums, listen to bands and orchestras, and go to the ballet. Dressy or casual, spectator or participant, audiences flock to the arts in the River City and surrounding counties.

Over 100 years ago, St. James Court was dubbed Louisville's first subdivision, and a fundraiser event first held there for the Old Louisville Neighborhood Association in 1957 has become an annual happening attracting more than 100,000. The St. James Court Art Show spans three city blocks over three days during the first full weekend of October, features 700 artists from North America and produces a $7 million economic impact for the city.
Since 1909, Louisville Visual Art has supported creative activity for children and adults. LVA operates in the Portland neighborhood northwest of downtown Louisville and produces Artebella, an email and blog that spotlights the work of a different Louisville artist each workday.
The organization's signature program is Children's Fine Art Classes. CFAC provides artistic instruction for 1,000 children in the Greater Louisville area each year. A springtime fundraiser at the LVA Gallery for CFAC gives patrons the chance to buy a 12-inch by 12-inch painting for $125 by one of 200 anonymous artists. The artist's name is revealed upon purchase.
The new director of the grandly renovated Speed Art Museum is Stephen Reily, an entrepreneur, civic leader, lawyer and avid supporter of the arts. Reily created a new strategic plan for the museum with a threefold theme of "Invite Everyone; Celebrate Art; Generate Sustainability." A sold-out Speed Ball for 500 patrons in March 2018 attracted more corporate sponsorship than ever before. The museum's Art Detectives program is expanding to take art and educators into classrooms across Kentucky and into Indiana. Museum membership is growing faster than any time since its reopening a couple of  years ago.
Located on the campus of the University of Louisville, Speed celebrates its 91st anniversary in 2018. In 2016 it reopened after a three-year, $60 million renovation and expansion, with double the square footage and almost triple the gallery space as before. Recent exhibits include "Women Artists in the Age of Impressionism" and "Picasso to Pollock" – with the latter's modern masterworks on loan from the Eskenazi Museum of Art at Indiana University, opening a five-year partnership between the Louisville and Bloomington institutions.
Kentucky Shakespeare, established in 1949, is the oldest free Shakespeare festival in the country. In addition to the annual Kentucky Shakespeare Festival in Central Park, a new program for 2018 is "Shakespeare Without Words," using the universal language of physical comedy to be inclusive of and welcoming to the region's non-English speakers. An External Agency Fund grant from Louisville Metro Government allows the program's creation.
Louisville Ballet was founded in 1952 and has performed more than 70 world-premiere ballets, plus 150 other choreographed works. Under the leadership of artistic and executive director Robert Curran, the organization has 43 staff members, 23 company dancers and 17 trainee dancers. Louisville Ballet's education programs provide matinee performances and on-site lectures for 20,000 schoolchildren each year.
In partnership with the Kentucky Distillers' Association, the Frazier History Museum will open two projects in August 2018: the Kentucky Bourbon Trail Welcome Center, which will serve as the official starting point of the Kentucky Bourbon Trail, and the Spirit of Kentucky Bourbon Exhibit, an immersive experience showcasing bourbon's history and culture.
Penelope Peavler, president and CEO of the Frazier History Museum, serves as co-chair of the Imagine Greater Louisville (IGL) 2020 steering committee, along with Roger Cude, senior vice president of Humana. Business and civic leaders lead IGL subcommittees that correspond to each major project priority: access, cultivation, education, diversity, equity and inclusion, and promotion. Fund for the Arts is the principle steward of Imagine Greater Louisville 2020. Launched in spring of 2017, IGL's mission is to pursue how arts and culture can best serve the region.
The goal of the 2017 Fund for the Arts campaign was $8.5 million. It was surpassed with an additional $700,000 in in-kind contributions and pledges for future years. FFA's new ArtsMatch crowdfunding platform was supported by LG&E and KU Energy and the Jennifer Lawrence Arts Fund to benefit arts groups like the Americana Community Center and Kentucky College of Art & Design.
In early 2018, 24 new arts and culture projects were announced by the Fund for the Arts and are currently underway in metro Louisville. They include the Imagine 2020 Concert Series at public libraries and the 20th annual Louisville Jewish Film Festival.
Actors Theatre of Louisville
actorstheatre.org
B. Deemer Gallery
bdeemer.com
Carnegie Center for Art & History
New Albany, Ind.
carnegiecenter.org
CenterStage at the Jewish Community Center
jewishlouisville.org/the-j/centerstage/
Central Kentucky Community Theatre
Springfield
centralkytheatre.com
Clarksville Little Theatre
clarksvillelittletheatre.org
Commonwealth Theatre Center
(formerly Walden Theatre)
commonwealththeatre.org
Derby Dinner Playhouse
Clarksville
derbydinner.com
Filson Historical Society
filsonhistorical.org
Hidden Hill Nursery & Sculpture Garden
Utica, Ind.
hiddenhillnursery.com
Humana Festival of New American Plays
actorstheatre.org/humana-festival-of-new-american-plays/
Iroquois Amphitheater
iroquoisamphitheater.com
Kentucky Center for African American Heritage
kcaah.org
Kentucky Center for the Performing Arts
kentuckycenter.org
Kentucky Opera
kyopera.org
Kentucky Shakespeare
kyshakespeare.com
KMAC Museum
kmacmuseum.org
Louisville Ballet
louisvilleballet.org
Louisville Chorus
louisvillechorus.org
Louisville Memorial Auditorium
louisvillememorialauditorium.com
Louisville Orchestra
louisvilleorchestra.org
Louisville Theatrical Association
louisville.broadway.com
Louisville Visual Art
louisvillevisualart.org
Louisville Youth Choir
louyouthchoir.org
Louisville Youth Orchestra
lyo.org
Mellwood Arts & Entertainment Center
mellwoodartcenter.com
Museum Row on Main
museumrowonmain.com
New Albany Riverfront Amphitheater
cityofnewalbany.com
Paul W. Ogle Cultural & Community Center
oglecenter.com
1619 Flux Art + Activism
1619flux.org
StageOne Family Theatre
stageone.org
Stephen Foster Story
Bardstown
stephenfoster.com
Speed Art Museum
speedmuseum.org
St. James Court Art Show
stjamescourtartshow.com
21c Museum
21cmuseumhotels.com
UofL Theatre Arts Department
louisville.edu/theatrearts
West Louisville Performing Arts Academy
westlouisvilleperformingarts.org