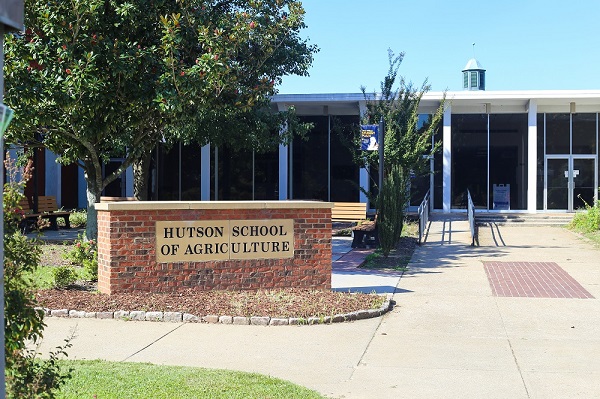 MURRAY, Ky. (July 13, 2018) — Murray State University has announced an online Bachelor of Science degree in agricultural science. The new delivery for this degree builds upon the existing agriculture science – agriscience technology degree program that has been offered by the University for many years to prepare students for numerous jobs in the agriculture industry.
"This is intended to be another monumental opportunity to expand the scope of Murray State agriculture," said Dr. Tony Brannon, dean of the Hutson School of Agriculture. "Our online Master of Science program has been unbelievably successful and this addition of an online Bachelor of Science program is modeled after it. Modern-day higher education technology, modern-day agriculture and modern-day students have changed. This online degree option is designed for those who may be limited by geography, time or other circumstances yet want to better themselves with a degree in higher education."
Dr. Brian Parr, head of the agricultural sciences department, believes that this newest online degree offering through the University's school of agriculture will afford opportunities for more students.
"Programs like this allow us to stay on the forefront of student service and pay attention to the demands of the agricultural industry," Parr said. "This will allow us to deliver a high-quality and high-demand degree to students across the country and beyond."
The degree, which can be completed in four years, can also be pursued in a traditional format on the University's main campus in Murray. Possible career options for students with this degree include precision agriculture technician, agricultural extension agent, agricultural service technician, agricultural sales and many other careers related to emerging technologies in agriculture.
The Hutson School of Agriculture has been at the forefront of innovative and proactive approaches to delivering curriculums in an online format. In fact, the school's master's program has tripled in size over the past three years and enrolls students from multiple states and continents.
"This completes our multiple access, multiple degree option in agriculture program — from Racer Academy dual credit courses in high school to traditional and online Bachelor of Science and Master of Science programs to a Doctorate in Agricultural Educational Leadership —  as we strive to serve agriculture and the students of our region," Brannon said.
For more information about the program visit murraystate.edu/agriscience.