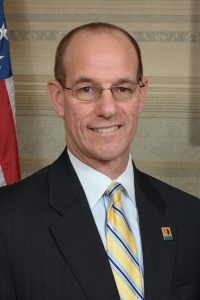 FORT MITCHELL, Ky. (July 13, 2018) – Daniel E. Tobergte announced today that he is ending his 28-year tenure with the Tri-County Economic Development Corporation effective Aug. 2 to pursue new opportunities.
Northern Kentucky Tri-ED serves as the primary economic development entity for Boone, Campbell and Kenton counties providing marketing, business retention/expansion and entrepreneurship services for the region. Since its founding in 1987, more than 670 primary industry projects have located to or expanded within Northern Kentucky, creating more than 67,000 new jobs and investing more than $8.4 billion.
Tobergte, J.D., CEcD, joined Northern Kentucky Tri-ED in June 1990 as senior vice president, became executive vice president in 1999 and was named president/CEO in November 2004, a position he has held until present. Prior to joining Tri-ED, Tobergte spent four years with the City of Covington and a year and a half with the City of Forest Park, Ohio, all in economic development roles.
"I am extremely appreciative of the opportunity provided by the leadership of Northern Kentucky Tri-ED to be at the forefront of Northern Kentucky's economic development transformation," Tobergte said. "I am pleased about our work to improve the opportunities for employees and employers in Northern Kentucky. There are countless individuals deserving of my appreciation, but I especially thank Jim West, Tri-ED's first president, and the late Bill Robinson, a Tri-ED co-founding member. The organization is well-established and will continue to serve Northern Kentucky well."
"Dan has played an integral role in Tri-ED's history, and therefore the tremendous growth of our region," said Kenton County Judge-Executive Chris Knochelmann, Tri-ED board chair. "Dan's legacy will be felt in Northern Kentucky for generations. He is family focused and community-centered in everything he does, and I'm looking forward to seeing his contributions to Northern Kentucky in the years to come."
An interim President/CEO of Northern Kentucky Tri-ED is expected to be announced in late July, Knochelmann said.
"Dan Tobergte's faithful and steady service leaves a lasting impact on the Tri-ED organization and the Northern Kentucky region. His character, integrity and professionalism have served our region well, and we will benefit from his efforts for many years to come," said Gary Moore, chair-elect of Northern
Kentucky Tri-ED.
"Tri-ED has led the way in economic development in the Commonwealth of Kentucky since its founding 31 years ago, with Northern Kentucky, the region it serves, having outperformed the rest of the state. Dan has been a principal in, or the leader of the organization for 28 of those years. It is no wonder his peers think so highly of him. We thank you Dan and wish you all the best; the community is a much better place for your efforts," said Steve Pendery, Tri-ED's immediate past chair.
Tobergte is actively involved with the Cincinnati/Northern Kentucky Foreign Trade Zone as chairman, is a trustee for Thomas More College, secretary/treasurer for the Northern Kentucky Port Authority, a board member for the Northern Kentucky Chamber of Commerce and REDI Cincinnati, and is on the Dean's Advisory Board for the College of Informatics at Northern Kentucky University. Tobergte also participates regularly in the NKY Chamber of Commerce Business Advocacy Council, in the Northern Kentucky City & County Management Association and the NKY Allies for Economic Growth, plus activities with the International Economic Development Council and the Kentucky Association for Economic Development.
A native of Independence, Ky., and a licensed Kentucky attorney, Tobergte graduated from the Chase College of Law at NKU  in 1988 after having earned a masters of public administration and an undergraduate degree from Eastern Kentucky University.
Tobergte volunteers with St. Henry District High School, Redwood and Immaculate Heart of Mary Church/School and coaches youth baseball and basketball.
About Northern Kentucky Tri-ED