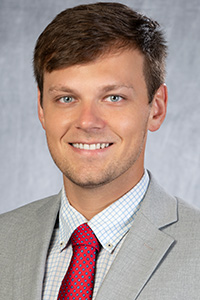 OWENSBORO, Ky. (July 16, 2018) — Sean Stinnett has been named the new relationship banker at First Security Bank. He will be assisting customers and guiding them through their banking experience at the downtown branch located at 313 Frederica Street, Owensboro, Ky.
"I am very excited to have Sean join the First Security Team," said Krista Niehaus, senior VP, sales and service manager. "I know that he will work hard to find the best possible solution for every customer that walks through his door. He has an infectious attitude and really connects well with both customers and employees."
Before coming to First Security, Stinnett worked as a logistics account executive in the Lexington, Ky. market. He spent his time there focusing on business sales and making sure his team was providing top-notch customer service.
"I am thrilled to start my career with First Security Bank," Stinnett said. "The company's culture and why statement are something I whole-heartedly believe in. They have treated me like family from the moment I started. I am eager to help First Security grow by earning new business within the Owensboro community."
First Security Bank, with $600 million in assets and more than 120 employees, has 11 banking centers in four major markets including Owensboro, Bowling Green and Lexington, Kentucky and Evansville, Indiana.