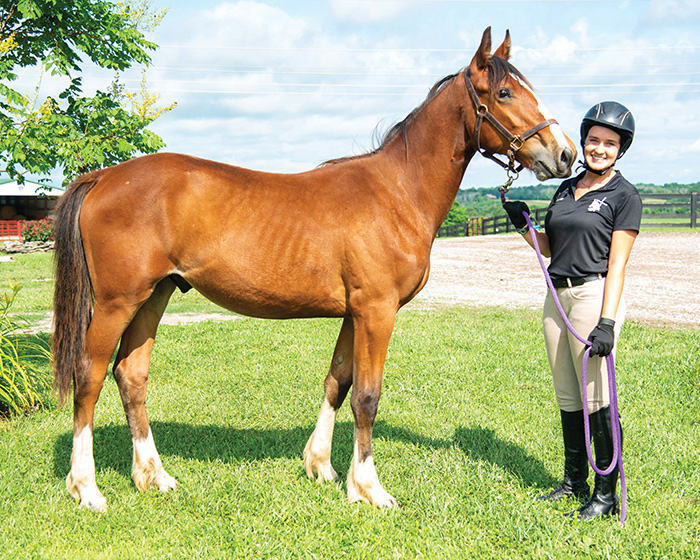 When Chris Marinelli caught a criminal by horseback – admittedly a rare occurrence – the perpetrator's first question was, "Are you going to take me to jail on that horse?"
Marinelli, deputy chief of staff for training with the Halifax Regional Police in Nova Scotia, Canada, recalled the incident that took place at a festival following a Rolling Stones concert on the Halifax waterfront. He was able to see the assault taking place because he was so high up on a police horse and alerted his comrades on the ground. He then took off on his horse and apprehended the assailant.
The department has one mounted police horse from Wilmore, Ky.-based Asbury University and plans to purchase another in 2019 because they are so valuable, primarily as a police department public relations tool.
Located on 350 acres alongside the Kentucky River in Wilmore, the Asbury University Equine Program provides opportunities for students to gain an equine-based education that's unlike any other in the nation. And it has the only mounted police training program in the United States that employs students as the primary trainers.
Wilmore Mayor and Asbury Director of Equine Studies and Operations Harold Rainwater founded Asbury's equine program in 1998 and leads it today. The first mounted police horse arrived in 2001, and it became a major of study in 2007. With 110 students, equine is Asbury's second most popular major program, behind media communications. Almost 2,000 students attend the university.
---
IT'S FREE | Sign up for The Lane Report email business newsletter. Receive breaking Kentucky business news and updates daily. Click here to sign up
---
The mounted police program was officially launched following successful draft horse demonstrations at the 2010 FEI World Equestrian Games, which were held at the Kentucky Horse Park.
"We hope to produce competent, happy and highly accomplished human/equine partnerships," Rainwater said. "Our hope is that Asbury is a light worth following. … I like changing the lives of people and horses. In an industry riddled with compromise, our equine program is trying to raise the bar for horse care and training."
On patrol across the U.S.
Asbury currently has 22 police horses on streets across North America, including Nova Scotia, San Francisco, Omaha, Atlanta and Las Vegas. Two are on U.S. border patrol.
Students come from around the country for the program; 40 percent are Kentuckians. The program is the university's fastest growing major and for good reason: 96 percent of its equine majors are employed within 60 days after graduation, with 90 percent of them working in the equine industry. Almost 80 percent of equine graduates stay in Kentucky for employment after graduation.
Some of the horses it trains also stay local. Currently, the Lexington Police Department uses three equine "alum" in its police force. Its first horse, Aden, came in 2011. The department won him in a competition called North American Police Equestrian Championships.
The Asbury horses are a benefit to the department because they "have a good foundation of sensory training that follows a similar program that we have in place," said Lexington Police Department Bureau of Special Operations Sergeant Joseph E. Eckhardt. "Our relationship with Asbury is good, so we are able to see the horses periodically as they are developing and in training to make a better decision on the horse. All three of our horses from Asbury have made good police horses.
"I am asked all the time where we get all of our horses," he added. "All the mounted police units I have spoken with are having issues finding trained police horses, and Asbury cannot keep up with the demand. There just aren't enough people out there training police horses like training police dogs."
Lexington's unit has seven mounts. In the U.S. there are 153 mounted police units, and in most cases the gentle giants are primarily a public relations tool.
Unparalleled at calming crowds
"There's nothing that calms a crowd (more than a horse)," Rainwater said. "And for an officer to walk through a neighborhood on horseback – the kids will come out, but they'll never come out if he's in a car. On a horse they'll go up to him."
And people are much less likely to throw something at or injure a horse than they are a police cruiser, he said.
Initially, Asbury had trouble placing horses because many police departments were using donated horses or trying to train them on their own, but "there is a big curve of late, with departments realizing they needed to get horses that were actually trained."
For a while departments got away from mounted units because of the diminishing returns, but now they are back in style. In Halifax, for example, Marinelli said the police department had 15 mounts in the 1980s. The program was almost disbanded entirely before the city realized its other resources were being stretched too thin in its bar district. Marinelli said mounted police are ideal for a 1-square-mile space of the city that has about 20 bars in it, and the city uses them as overall public relations, crowd control and people-moving tools.
"The horses are so front and center, and we take them to all of these community events," Marinelli said. "We're at capacity, so we need more horses to provide more coverage."
These are not horses that you want to step in front of. In Houston, for example, the required height is 17 to 18 "hands" high – equivalent to about 6 feet tall – and that's only to the top of the animal's shoulder, not even factoring in the head. Asbury mainly trains the Percheron-Thoroughbred breed, and for a specific reason. The Percheron, a type of draft horse, has size and quietness. Thoroughbreds are known for their finesse and trainability.
Good business but not a profit maker
Each horse Asbury buys from a breeder in Canada costs about $1,200 as a six-month-old weanling. Rainwater generally buys six at a time and selects horses that have a commanding presence and are big boned to withstand long periods on the pavement. Almost all mounts are geldings, because they are predictable every day.
Although it costs more to train the horses than what he sells them for, Rainwater said, the university sees it as an opportunity to attract and educate its students. He tries to recoup the cost of purchase, feeding and veterinarian bills, which amounts to roughly $2,500 per year. Most fully trained 3-year-old mounts sell for $10,000, but that's sometimes discounted when departments purchase multiple horses.
"We usually sell multiple at a time, and they're good return business," Rainwater said, adding that police departments often equate them to the price of a cruiser if they are trained properly because a healthy, well-trained mount should last up to 15 years. "It is about the training for students, and a measurable way to know if your training is successful is if you produce horses that people want."
Rainwater said it costs the average police department between $400-$500 per month to care for the horses, but there are many variables and larger departments like Lexington can save a little bit of money by employing their own trainers and having their own facilities. Eckhardt said LPD relies heavily on funds through its nonprofit, The Friends of the Lexington Mounted Police, and other generous community donations. He said the cost per horse varies significantly since they can sometimes injure themselves playing in the field or come down with an illness.
"The greatest cost to our unit would be our farrier and our hay," he said, adding that there also are vet bills to maintain. "Each horse costs approximately $1,800 per year to keep in shoes. It is very important to us to have healthy horses, and their feet are a big part of that. We generally use around 1,500 bales of grass hay a year, depending on the weather and pasture growth, at around $5.50 a bale. Our department is very supportive of the unit and provides a generous operating budget to support us and properly care for the horses."
The financials are challenging for both the police units and for Asbury, and other downsides for the university include horse returns.
"What we have found is if you came and picked one of our horses and we gave you a 30- or 60-day return, if you return it for whatever reason, it's almost a death sentence to that horse. It's a closed society within the horse industry. They'll say 'he threw someone off, reared up, whatever'… That horse is never going to be placed, and we'll have to get it out of the system."
Though most of Asbury's horses go to outstanding mounted police units, Rainwater said a horse's misbehavior is usually due to untrained officers who "jerk them around."
"Sometimes it's a horse who's been in a condition here of love and caring and gentleness and they're thrust into the big macho world with the big badge and big gun and big spurs," Rainwater said. "We always ask the officers to come here for a few days and watch how they handle the horses."
Sometimes the school will receive a horse that ends up being too small to join the police force, so they'll use him – all of them are males – for something else at the facility.
Without 100 percent guarantee of return on investment, Rainwater has to run an especially tight fiscal ship and seek out grants and donations. The program also earns about $65,000 in income – out of roughly $100,000 total – from boarding horses for students. The university owns 65 horses and boards about 30 for students. It also uses its horses and property for camps, children's programs and trail rides.
---
Abby Laub is a correspondent for The Lane Report. She can be reached at [email protected]