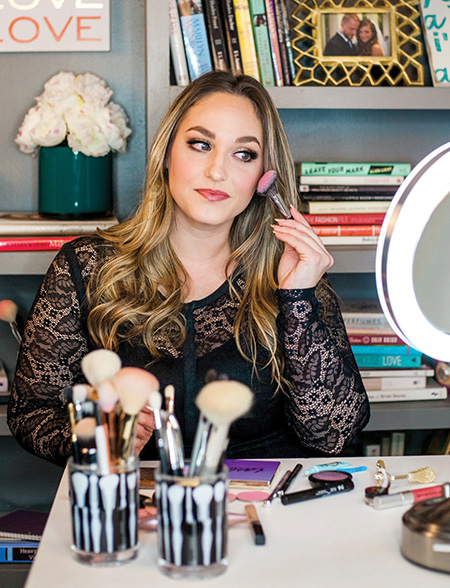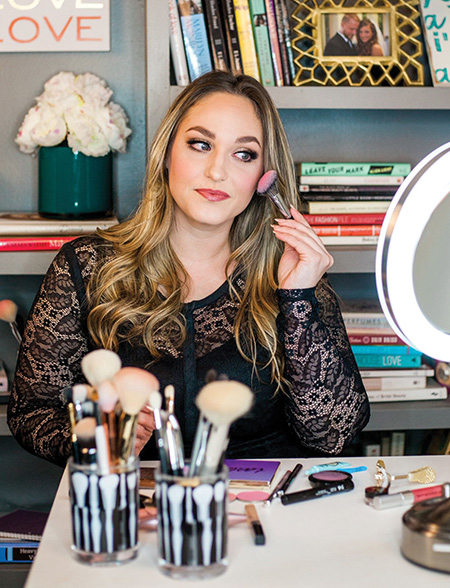 In 2008, Sara Drury was a hairstylist, trading time for dollars in a salon. Now she is an entrepreneurial makeup artist teaching online beauty courses on a one-to-many basis instead of one-to-one.
"I'm thinking more like a businesswoman and creating a business that is more sustainable and one I can scale," she said.
Three years ago, Drury's husband got let go from his job and she decided to ramp up her beauty biz big time. She kept asking herself, "How can I make more money without working a ton more?"
The answer came when she found Marie Forleo's B-School, an eight-week online business course. Drury learned how to "take what I know and what I have been doing and create an online business."
Several times a year she launches her six-week "Makeup Made Simple" online course, which focuses on both outer beauty and inner beauty by incorporating makeup how-to's and confidence strategies into the curriculum. Class participants learn how to put on a five-minute face to run errands and how to create a full face of makeup for a night out.
Drury includes components that address replacing negative self-talk with self-acceptance. With so much exposure on social sites to airbrushed images of models and celebrities, Drury knows how easy it is to fall into a comparison trap, so she's out to help other women accept themselves as they are.
---
IT'S FREE | Sign up for The Lane Report email business newsletter. Receive breaking Kentucky business news and updates daily. Click here to sign up
---
Another of Drury's web-based programs is called "21 Days to Self-Love," where she delivers a daily e-mail for three weeks containing practical steps on the topic of self-esteem. A third course will be coming soon that "goes deeper into all that inner work," she said. "I'm such a learner. I'm always exploring self-discovery and how I can be my best self and teach others."
Born in California, Drury has lived in Lexington since she was 12. She decided to go to a beauty school in Jessamine County while she figured out what she wanted to do with her life. But instead of pursuing a college degree for a corporate path of some sort, she got hooked on hair and makeup and has stayed in the beauty business for 10 years.
"I was doing a lot around Lexington, but then decided I wanted to 'scale' and go global with it," she said.
Drury still uses her hair and makeup skills with individual clients in Central Kentucky for special events like weddings and Derby parties.
Aside from her course offerings for students to purchase, she provides free step-by-step tutorials on skincare, hairstyles and makeup through her YouTube channel and in her Facebook Live videos. As the busy mom of a 5-year-old herself, Drury appreciates time-saving tips like these and is happy to share them with others.
"I teach makeup application and confidence boosting in a way that lets your authentic and beautiful self shine through," she said.
When her husband lost his job, it rocked the couple's world, but it wound up setting Drury on a new path by showing her she could come up with practical plans for her hopeful dreams and design her own life path.
"I think it's fascinating to find ways to scale what we're already doing and find ways to make more money with what we already know," she said. "I love the idea about scaling what you already do."