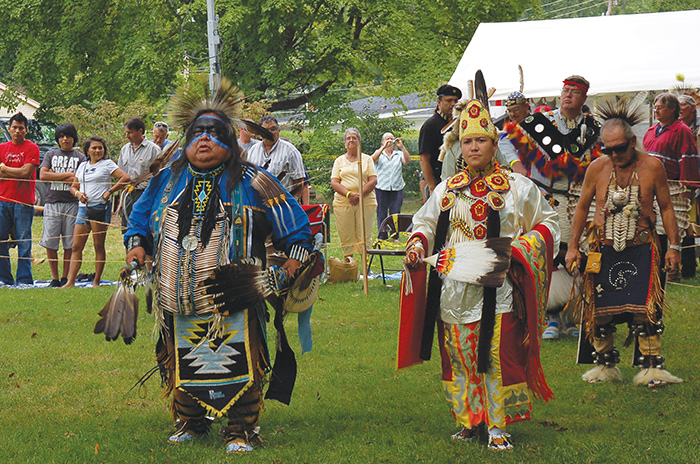 The exact origins of Labor Day are a bit cloudy but the holiday clearly began as a one for the working, or laboring, classes. Once upon a time, Labor Day marked the official end of summer vacation and the beginning of the school year. Though that's no longer the case, the celebration is now a long weekend enjoyed by folks of all ilk.
In every corner of Kentucky, events abound on that first weekend of September. Following is but a sampling. For more, visit kytourism.com.
If you're up for history sprinkled with spirit(s), sign up for the Sept. 1  Bardstown Ghost Trek, led for the past 21 years by certified ghost hunter Patti Starr. If you wish to "capture" the lingering spirits you'll encounter on the tour, bring your cameras, audio recorders and camcorders. Patti swears they love to be photographed!
The Saturday evening event begins in the heart of Bardstown outside the Talbott Tavern, where you'll hear true-to-life experiences of people who've witnessed current ghostly appearances at stops on the trek. Patti will relate the tavern's history before leading you inside to see where Jesse James stayed during his visits. Maybe you'll even be lucky enough to record Jesse answering a question. You'll see a photo of an apparition of this famous outlaw taken by a previous guest on the tour, then spend time in the tavern's most haunted room.
---
IT'S FREE | Sign up for The Lane Report email business newsletter. Receive breaking Kentucky business news and updates daily. Click here to sign up
---
Next, come visits to the Jailers Inn, an operating hold for criminals from 1819 to 1987, and named by the Travel Channel as one of the 10 most haunted places in America. At the Pioneer Cemetery, you can try to record EVPs (electronic voice phenomena).
On Sunday night, Sept. 2, pack up the kids and your portable chairs and head to Carter Caves State Resort Park for Cave-in Movie Night. The featured movie is "Jumanji: Welcome to the Jungle."
"We set up a big movie screen inside Cascade Cave," says Coy Ainslie, park interpreter. "And the park furnishes entertainment, drinks and snacks for only $5 a head."
You might want to treat the family to an overnight at the park's 28-room fieldstone lodge, where private patios or balconies overlook the woods. It's pet-friendly, so bring Fido along. The next day, spend some time exploring some of the 20 twisting underground caverns and a 30-foot waterfall.
If you're looking for a longer getaway, travel to the banks of the Ohio River for Heritage Days in Augusta, Aug. 31 through Sept. 2. Named by USA Today as "The Most Picturesque Town in Kentucky," Augusta hosts games, vendors, trolley tours, entertainment and the famous frog-jumping contest. Stay awhile and discover intriguing history on the Gilded Lily Walking Tour. Led by Miss Lily, an 1860s-era Southern gentlewoman, you'll hear titillating tales of the town's Underground Railroad connections and visit Civil War battle sites and the state's oldest jail, circa 1811.
Peek into the Rosemary Clooney Museum to learn about handsome George's talented Aunt Rosie; journey across the Ohio on the Augusta Ferry, in operation since 1798 ( $5 per vehicle or free of you're walking); then take a romantic horse-drawn carriage ride along the water's edge. Be sure to stop for a late-afternoon sipper at Baker-Bird Winery, the oldest commercial estate winery in the country.
In Eastern Kentucky, the 10th annual Honoring Our Veterans Pow Wow holds sway Sept. 1-2. Sponsored by the Kentucky Native American Heritage Museum (KNAHM) in Corbin, this competition pow wow, with $25,000 in prize money, features Native American dancers, drums, flutes, demonstrations, a petting zoo, pony rides and vendors.
Founded in 1999, the KNAHM embraces a mission of promoting an understanding of America's indigenous peoples, from historic and current perspectives, through sharing information about their history, culture, beliefs and creative arts; their existing communities; and their contributions to the cultural weaves of the people of Appalachia and of our country. The museum also teaches about the Eastern Woodlands tribes that lived in the area and their cultural effect on everything from self-government to survival skills to food. Estimated to make up 90 percent of the Appalachian population, their descendants still lead the way in shaping the mountain character.
Veterans are admitted free to the pow wow. Parking is free and primitive camping is available.
On Sept. 2, Kentucky Dam Village State Resort Park teams up with Calvert City's Kentucky Lake Outdoors for Kayak Demo Day. Whether you're a beginner or an experienced kayaker, you can try out a top-of-the-line model free of charge. Meet at "the Old Beach" next to the conference center to choose your boat and head for the lake.
One of three Kentucky State Resort Parks near Land Between the Lakes National Recreation Area – a 170,000-acre treasure between Lake Barkley and Kentucky Lake – Kentucky Dam Village offers a lodge with 72 lake-view rooms; 60 cottages; or a 14-room inn (available as a total buyout rental) by an 18-hole golf course. There's also an outdoor pool, horseback riding, beach, boat rentals of all sizes, big-time fishing – 242 species – and even a 4,000-foot lighted runway if you want to fly in.
Why travel outside the commonwealth for Labor Day when you can stay and play in Kentucky?
Plan Your Labor Day Fun
Bardstown Ghost Trek, Bardstown kyghostwalks.com/bardstown-ghost-trek
(859) 699-1800
Cave-In Movie Night, Carter Caves State Resort Park, Olive Hill
parks.ky.gov/parks/resortparks/
   carter-caves/
(606) 286-7009
Heritage Days in Augusta
augustaky.com
(606) 756-2183
10th Annual Honoring Our Veterans Pow Wow, Corbin
knahm.org
(606) 526-5635
Kayak Demo Day, Kentucky Dam Village State Resort Park, Gilbertsville parks.ky.gov/parks/resortparks/
   ky-dam-village/
(270) 362-4271
---
Katherine Tandy Brown is a correspondent for The Lane Report. She can be reached at [email protected]