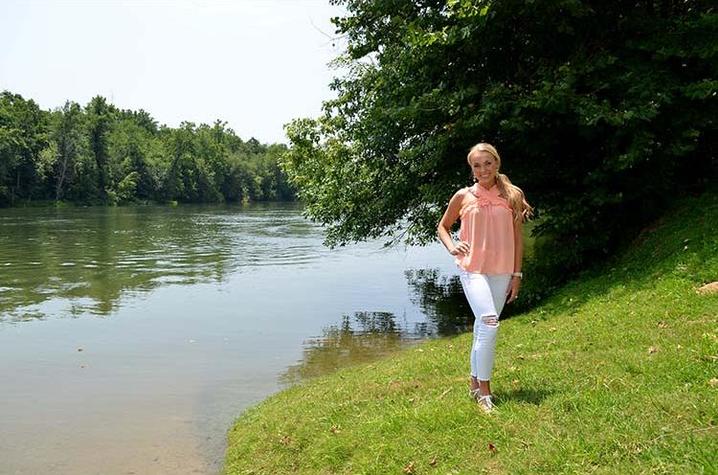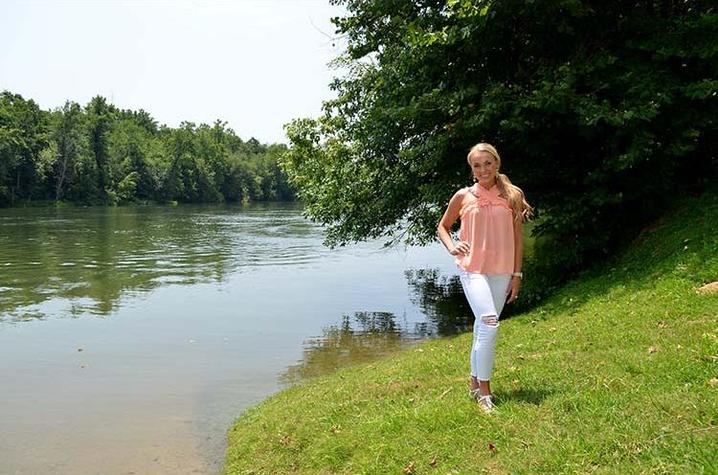 BURKESVILLE, Ky. (July 31, 2018) – The southern Kentucky town of Burkesville continues to reap the benefits of a project that began several years ago through a partnership between University of Kentucky junior Molly Morgan and Elijah Wilson, the county's 4-H youth development agent with the UK Cooperative Extension Service.
At that time, Morgan was a high school junior, 4-H'er and Rogers Scholar who was interested in giving back to her community and she approached Wilson about ways she could make a meaningful impact. The result was a beautification effort for the town spearheaded by a committee Morgan led with local leaders called Partners with P.R.I.D.E.
"Extension is involved in anything that has the community associated with it," said Wilson, an extension agent in the UK College of Agriculture, Food and Environment. "We do community development, but we also do leadership development because we know great communities have great leaders. Molly is an example of that."
Morgan and Wilson originally received a $10,000 grant from the Appalachian Regional Commission to begin the committee and beautification project. It is a total that they now annually double thanks to investments from local organizations who want to see the beautification efforts continue.
"I loved growing up in a small town, but a lot of the time people get the idea that there's no opportunities around here," said Morgan, a human health sciences major in the UK College of Health Sciences. "Moving off to the big city of Lexington to attend the largest university in the state made me realize that everybody has an area that they can impact whether it be the small town of Burkesville or a UK sorority or dorm or within my college. I really just want to encourage people to get involved in their community, give back and make a difference."
The additional funds have allowed Partners with P.R.I.D.E to expand their efforts into a major thoroughfare through town, the Cumberland River. They are hoping to use the river, which is one of the best locations for trout and striped bass fishing in the Eastern United States, as an economic driver for the community. They are working to get Burkesville designated as a Kentucky trail town and they are holding a festival called River Festivus Aug. 17-19 to help them receive that designation, attract tourists to the area and in turn, spur economic development.
"Once people get exposed to this river, Burkesville is going to change and grow and that's going to make life better for us," Wilson said.
They are working to make the river safer for boaters, as the committee has paid for mile markers to be placed along the river in Cumberland County.
"If someone's boat breaks down or they have other issues on the river, they can call 911 and these mile markers will help the dispatchers pinpoint their location for our local rescue squad," said Greg Cary, Cumberland County Emergency Management director.
Neighboring river counties Russell, Monroe and Clinton have also joined in the effort and purchased mile markers for the portion of the river that runs through their counties.
The success of Partners with P.R.I.D.E. has also allowed Morgan to give back to other Rogers Scholars from Cumberland County as the organization awards an annual scholarship to scholars who agree to continue to give back to Burkesville.
"I want people to invest in themselves, so they can give back and invest in those who live here," Morgan said.