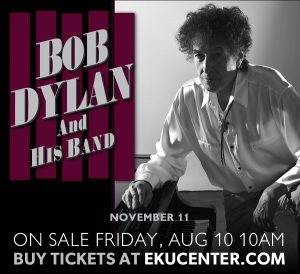 Music icon Bob Dylan is coming to the EKU Center Nov. 11. Tickets go on sale Friday, Aug. 10 at EKUCenter.com. In a career spanning more than five decades, Dylan's impact on popular music and culture is immeasurable.
He is responsible for some of the most influential albums of all time, including The Freewheelin' Bob Dylan, Highway 61 Revisited, and Blonde on Blonde, and his socially and politically charged singles, "Blowin' In The Wind" and "The Times They Are A-Changin'," are widely considered among the most important songs in modern music.
To experience Bob Dylan and his Band live in concert is an opportunity to share an encounter with one of the last remaining musical legends of the modern era. Don't miss out on what promises be a performance for the ages.
Want tickets early?
Become a Friend of the Center at the $250 level or above to buy your tickets before they go on sale to the public.