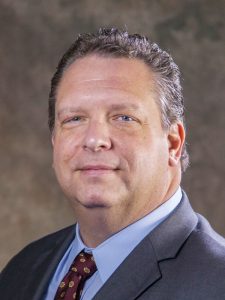 ASHLAND, Ky. (August 13, 2018) – Kentucky Community and Technical College System (KCTCS) President Jay K. Box announced on Aug. 3 the appointment of Dr. Larry Ferguson as president of Ashland Community and Technical College (ACTC).
Ferguson currently serves as vice president and acting chancellor for KCTCS. He is the former KCTCS vice chancellor for Economic Development and Workforce Solutions and has served in a number of leadership positions at ACTC. He was an instructor there as well as the University of Charleston in Charleston, W.Va. Ferguson also served as president of Bevill State Community College in Jasper, Ala.
"There really is no better person to lead ACTC than Larry Ferguson," Box said. "He grew up here, he knows the college and he knows this community. He also has extensive leadership experience with KCTCS and has been a college president."
Ferguson earned a doctorate of philosophy in educational leadership with a specialization in e-learning from Trident University. He earned a master of science degree in strategic leadership and a bachelor of science degree in organizational leadership, both from Mountain State University. Additionally, he earned an associate degree with a focus in communications from ACTC.
"I am extremely honored to serve as president of Ashland Community and Technical College," Ferguson said. "Boyd County is my home, and I'm happy to come back to serve the community and this college that is so special to me."
Ferguson begins his duties as ACTC president on Oct. 1.
"I've known Larry for years and have seen him grow as a person and as an employee at ACTC and across the state," said Ann Perkins, ACTC board chair. "His roots are here, and he has a passion for this area. It's hard to be anything but thrilled."