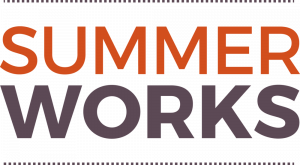 LOUISVILLE, Ky. (Aug. 14, 2018) – From computer coding to manufacturing and life-guarding to public finance, a record number of young people — 6,200 to be exact — gained new skills and confidence working at businesses and job sites throughout Louisville this summer as part of the SummerWorks program.
Mayor Greg Fischer today congratulated youth and thanked the many private sector and non-profit employers who hired youth ages 16-21. That number includes 1,004 youth employed by companies and organizations that directly teamed with KentuckianaWorks and YouthBuild to provide more extensive career guidance and support.
Since its start in 2011, SummerWorks and its partner-employers have put more than 23,000 young people into summer jobs.
"SummerWorks is helping build critical skills with our young people, including many who might not otherwise have this opportunity to learn and grow in the right direction," Mayor Fischer said.  "This effort not only helps ensure that Louisville is a city of opportunity for all our young people — it's also helping build a pipeline of new talent which is crucial."
At a season-closing event at the Humana Digital Experience Center, several young people shared their summer job experiences.
Elanna Carr, 20, said her work in Public Finance at Hilliard Lyons was a "perfect real-life work fit and very beneficial," even convincing her to major in Economics at the University of Louisville
Teandre Blincoe, 17, who worked in technology on the IT Service Desk at Humana, said the experience "meant a lot to me in building my customer skills and showing me possible career opportunities in the tech field"
Grace Hotkewicz, 17, who taught art to pre-school children at the Speed Art Museum. "I learned so much and it was a perfect fit for my career goal of creating digital animation for kids."
Other SummerWorks' youth worked in hospitals, restaurants, museums, banks and hotels. Working closely with supervisors and mentors, young people worked on manufacturing assembly lines and grocery check-out lanes, assisted companies with IT and human resources needs, worked in tourism and helped ship packages around the world.
Key employer-partner companies, including GE Appliances, Humana, Kentucky Kingdom, Kindred Healthcare and UPS, increased their direct hiring of SummerWorks youth from 2017. New employers included Dine Company, Hilliard Lyons, HJI Supply Chain Solutions, Kentuckiana Comfort Center, iQor, Louisville Bats, Spectrum and StoryWood Bowties.
More than 40 private-sector businesses participated this summer, and Mayor Fischer said a top goal for 2019 is to greatly increase the number of companies hiring youth.
Private donations sponsored 237 youth in jobs at dozens of non-profit organizations and public agencies, including Americana Community Center, Boys and Girls Clubs, Family Health Centers, the Food Literacy Project and Workwell Industries. TARC bus passes were provided to many youth to help get them to and from their jobs.
SummerWorks is playing a stronger role in shaping young talent through its partnership with the new Academies of Louisville initiative, which was rolled out at 14 JCPS high schools this year. The goal is for every student to have had a summer job experience by the time they graduate their Academy high school.
SummerWorks also helped build entrepreneurial skills by providing small grants to five organizations that engaged youth in summer projects ranging from bringing fresh produce to West Louisville, to providing digital skills to young women, to building a new bicycle pump track at Shawnee Park.
"We are thrilled to see this initiative grow and evolve in both the quantity of and quality of the job opportunities young people are able to experience," said Michael Gritton, executive director of KentuckianaWorks, which operates SummerWorks in partnership with YouthBuild Louisville.
The Mayor launched SummerWorks right after taking office in 2011, in response to the elimination of federal funding for summer jobs.  That first year, 200 young people were placed in jobs. The program was recognized by the U.S. Conference of Mayors in 2014 as one of the nation's best summer jobs programs for young people.
The program's core operating funds are approved by the Louisville Metro Council. Private donations sponsor jobs for youth in greatest need of the opportunity. Those contributors include the James Graham Brown Foundation, JPMorgan Chase Foundation, Diaz Family Foundation, Gheens Foundation, Mary Gwen Wheeler and David Jones, Jr. and other organizations and individuals.
The Mayor urged employers to make plans now to hire or support summer jobs for 2019. More information is at www.summerworks.org .