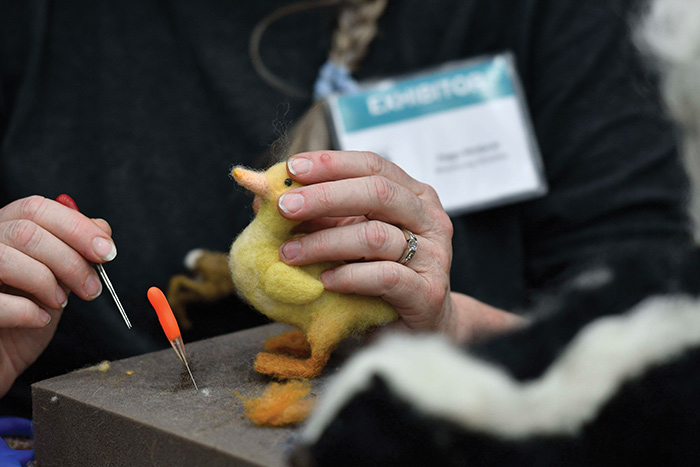 Affiliation with the Kentucky Arts Council's Kentucky Crafted arts marketing program is a mark of artistic excellence, and there are several artists in that distinguished directory who can attribute at least part of their success to connection with the Kentucky Crafted brand.
Kentucky Crafted artist Lynn Dunbar, of Louisville, achieved a unique distinction earlier this year when she was selected to be the artist for the officially licensed Kentucky Derby and Kentucky Oaks posters.
Dunbar earned that commission through her affiliation with Kentucky Crafted. The program provides assistance to Kentucky visual and craft artists through networking, promotional and sales opportunities and arts business training. Carrying the Kentucky Crafted brand is a symbol of artistic excellence in the commonwealth.
Officials with Atlanta-based CAA Sports Licensing said collaboration with the Kentucky Arts Council, including consulting the arts council's adjudicated Kentucky Crafted directory, helped in selecting Dunbar for the distinction.
In addition to the networking benefits, Kentucky Crafted artists are eligible to use the Kentucky Crafted logo on their websites and any printed material, including merchandise tags; exhibit at The Kentucky Crafted Market; be included in the arts council's online directory for artists; sell work at the Governor's Derby Celebration; and take advantage of cooperative advertising opportunities.
If you are an artist interested in pursuing the Kentucky Crafted brand – or you know an artist who should apply – contact Dave Blevins, arts council arts marketing director, at [email protected] or (502) 892-3120.
The arts council is accepting applications for Kentucky Crafted through Aug. 15. Applicants must be visual and craft artists who do original work in any medium, are full-time residents of Kentucky and are 18 years of age or older. They should also have a well-developed body of work and some marketing experience.
'Makings of a Master' exhibit
The Kentucky Arts Council's traveling folk and traditional arts exhibit, "Makings of a Master," will be in Boone County through Aug. 31.
The exhibit is at the Boone County Public Library (main library), 1786 Burlington Pike in Burlington.
"Makings of a Master" contains seven display cases housing a variety of musical instruments, tools and artworks made by master tradition bearers; interpretive panels; display photos and quotes; along with a push-button video display.
"The library does a lot of exhibits. They help us engage with our audiences," said Kate Sowada, the library's community events liaison. "The arts are a great way to engage with the community, make them aware of what else is out there for them."
During the exhibit's stay in Boone County, three artists – all recipients of the arts council's Folk and Traditional Arts Apprenticeship Grant – will demonstrate and discuss their craft during separate presentations.
Fort Thomas master quilt maker Patricia Brennan kicked off the series in June. Brennan discussed how she makes artistic decisions in her craft and how she incorporates values like resourcefulness, inventiveness and symbolic meaning into each quilt. She also talked about her journey into quilt making and how she helps continue the tradition through teaching new quilters of all ages.
On July 27, Lexington choreographer and dancer Lakshmi Sriraman, a master of the classical Indian dance form Bharatanatyam, performed along with her apprentice Vasundhara Parameswaran and answered questions about Indian dance, its cultural meaning, costumes and the music that accompanies the movement.
Nicholasville musician Hong Shao, a master at the pipa, a Chinese stringed instrument, concludes the presentation series on Aug. 16 at 6:30 p.m. She will discuss the techniques of pipa playing and the stories and culture surrounding the 2,000-year-old instrument's characteristic sound. She will perform and demonstrate playing techniques and styles with her apprentice, Leah Werking.
"I think the artist discussions and presentations will help build awareness and bring the exhibit to life," Sowada said. "To have artists come and talk about their own experiences will add that layer to it."
Library hours are 9 a.m. – 9 p.m. Monday through Friday, 9 a.m. – 5 p.m. Saturday and 1-5 p.m. Sunday.
For more information on the "Makings of a Master" exhibit, contact Mark Brown, arts council folk and traditional arts director, at [email protected] or 502-892-3115.