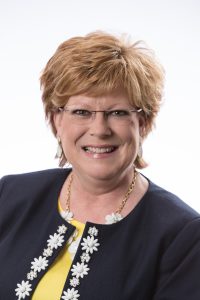 LEXINGTON, Ky. – Fayette County Board of Education Chair Melissa Bacon, who has served on the school board for more than 12 years, said today she has notified the state commissioner of education that she is resigning effective immediately in order to care for her aging mother.
"It is with mixed emotions after much prayer and discernment that I am resigning from my board position," Bacon said. "My mother, whom we celebrated 90 years young last weekend, is in failing health and requires full-time care. I will not be able to adequately devote the time needed to continue my board work."
Bacon was appointed to fill an unexpired term representing District 1 on the Fayette County Board of Education in November of 2006 and ran to continue to fill the spot in 2007. She was elected to a full four-year term in 2008 and re-elected for her second and third terms in 2012 and 2016. She has served as chair since the spring of 2016.
"Melissa's service on the board has truly been a gift for our community. She is a moral leader who puts children first in every decision and it has been an honor to work with her," said Fayette County Public Schools Superintendent Manny Caulk. "We will miss her passion and spirit of servant leadership."
Bacon's tenure on the board spanned the administrations of three superintendents, and she was a member of the team that hired Caulk three years ago. Her time on the board was marked by a period of dramatic student enrollment growth from roughly 35,000 to more than 42,000. She was instrumental in working with Commerce Lexington and other community leaders to aggressively address school facility needs and reimagine high school education.
Since Bacon joined the board in 2006, the district has opened nine new schools, renovated 22 schools and two support facilities, acquired property to become the permanent home for STEAM Academy and expanded its partnership with Bluegrass Community and Technical College to place STEAM students on a college campus. Fayette County's 37th elementary school is currently under construction and will open in the fall of 2019.
She also played a significant role in Lexington's designation as a Ford Next Generation Learning Community because of the partnership between Fayette County Public Schools, Commerce Lexington, the Business Education Network, the city and local institutions of higher education. This collaboration led to the launch of The Academies of Lexington in which large comprehensive high schools are transformed into career-themed academies to better prepare students for college and professional success in today's competitive global economy.
"Ever since I joined the board, I have been advocating for us to do high schools differently in order to engage all students," Bacon said. "We are well on our way to expand our academies to all our high schools. I feel I have helped to connect people and promote our community involvement with our business partners, our faith-based partners and parents. Our students need our entire community's involvement to foster relationships for success."
Prior to joining the school board, Bacon had been active with the Parent Teacher Association at both Garden Springs Elementary and Beaumont Middle schools. She is a graduate of the Commonwealth Institute for Parent Leadership and was a participant in the Parents Partners in the Arts program, both run by the Prichard Committee for Educational Excellence. Bacon also served on the school-based decision-making council at Garden Springs and the district's Elementary Super Council.
"It was truly a step of faith and an honor for me to serve my community in my board role," she said. "I completely support our board, superintendent and district in all the initiatives currently underway and will continue to be the biggest advocate and cheerleader for Fayette County Public Schools and public education."
Bacon, 53, is married to Chris Bacon and has two children who graduated from the Fayette County Public Schools. Raised in Lexington since she was four-years-old, Bacon is a graduate of Lafayette High School and studied English at the University of Kentucky.
Under Kentucky statute, the state commissioner of education will have 90 days to appoint someone to the open seat. The appointed school board member will serve for one year and the position will be up for election in the fall of 2019.