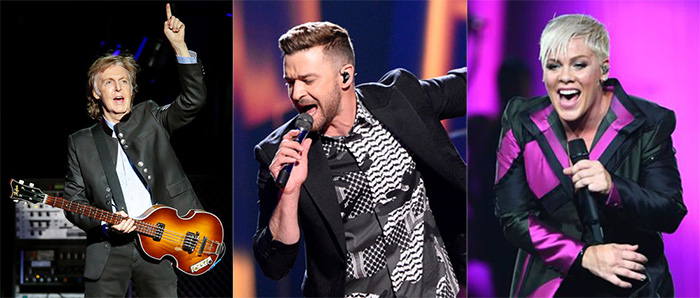 LEXINGTON, Ky. — Rupp Arena is erupting with entertainment thanks to a new partnership between arena owners, the Lexington Center Corp. and Oak View Group Facilities.
Bookings for 2018 have increased 100 percent over last year and with the recent addition of Paul McCartney in 2019, there's no slowing down at Rupp Arena, according to David Farrar, Oak View Group facilities director of booking.
Rupp Arena is currently ranked as the 77th most successful venue in the world and 38th in the United States, according to Pollstar Magazine's Mid-Year rankings which are based on event ticket sales.
"Entering into an agreement with Oak View Group Facilities was clearly the right decision for us," said Bill Owen, president of Lexington Center Corp., owners of Rupp Arena. "Oak View Group Facilities has a clear vision for enriching our event schedule with a diverse lineup that truly creates something for everyone at Rupp Arena.
"The community is abuzz with the many different type of acts this partnership is bringing to Rupp," said Owen. "We are excited about the future at Rupp and we look forward to more great events with Oak View Group Facilities as our booking partners."
"We owe a great deal of gratitude to our promoters, particularly Live Nation, Feld Entertainment, WWE, and many others who have helped us create exciting entertainment opportunities for the region," said Farrar, Oak View's director of booking. "In addition, we would like to thank our wonderful partners at Lexington Center Corporation and the staff at Rupp Arena who work tirelessly to help us present these terrific shows."
Farrar joined Oak View Group Facilities after spending the last four years in Reading, Penn. as the general manager of the Santander Arena and Santander Performing Arts Center. He and the company are raising the bar at Rupp Arena to a whole new level.
"We are particularly proud of our work at Rupp Arena," said Peter Luukko, chairman of Oak View Group Facilities. "David and his team have done an outstanding job of utilizing our extensive relationships within the industry to benefit our client at Rupp Arena."
In addition to McCartney, Rupp Arena has performances scheduled with Marvel Universe (Sept. 6-9), Justin Timberlake (Sept. 17), Thomas Rhett (Oct. 4), Chris Stapleton (Oct. 27), A Perfect Circle (Nov. 3), Paw Patrol Live (Nov. 6-7), Jeff Dunham (Nov. 10), Bad Bunny (Nov. 11), Halestorm (Dece. 5), Transiberian Orchestra (Dec. 6), Alabama (Dec. 7), Snoop Dogg (Dec. 8), the Impractical Jokers (March 26, 2019), and Pink (May 9, 2019).
In the first eight months of Rupp Arena's partnership with Oak View Group, the facility hosted Alan Jackson (Jan. 1, 2018), Professional Bull Riding (Jan. 17, 2018), Miranda Lambert (March 2, 2018), Winter Jam (March 31, 2018), WWE (April 1, 2018), the Eagles (April 10, 2018), Brantley Gilbert (April 19, 2018), Cirque du Soleil Corteo (March 24-26, 2018), Foo Fighters (May 1, 2018), Five Finger Death Punch (May 8, 2018), Monster Jam (May 12, 2018), Tim and Faith (June 2, 2018) and WWE (July 21, 2018).