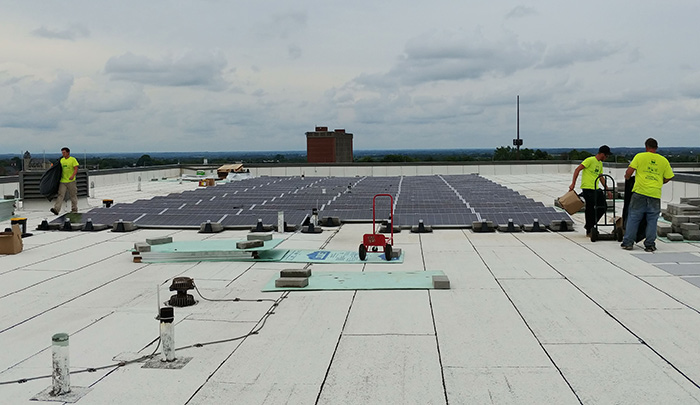 RICHMOND, Ky. — Eastern Kentucky University's new science building now has 120 solar modules to help the campus increase its renewable energy supply and reduce its carbon footprint. Final installation will be complete Monday.
"In addition to its environmental benefits, this solar array positively enhances the EKU educational experience," said Judy Jenkins, assistant professor and chemistry undergraduate program coordinator. "The solar array teaches ways that classroom science solves real-world challenges. Plus, the monetary savings realized fund student scholarships."
According to the Princeton Review's 2017 College Hopes & Worries Survey of more than 10,000 teens and parents, 64 percent said having information about a school's commitment to the environment would influence their decision to apply to or attend the college.
Solar Energy Solutions of Lexington installed the solar array, which provides a total of 39.6 kilowatts of power and provides hands-on learning opportunities for the students.
"Each panel offers individual monitoring, so EKU students can use the data to explore panel performance as they examine ways to implement renewable energy in their lives and future careers," said Matt Partymiller, co-owner of Solar Energy Solutions.
The system is capable of powering the equivalent of four Kentucky homes.