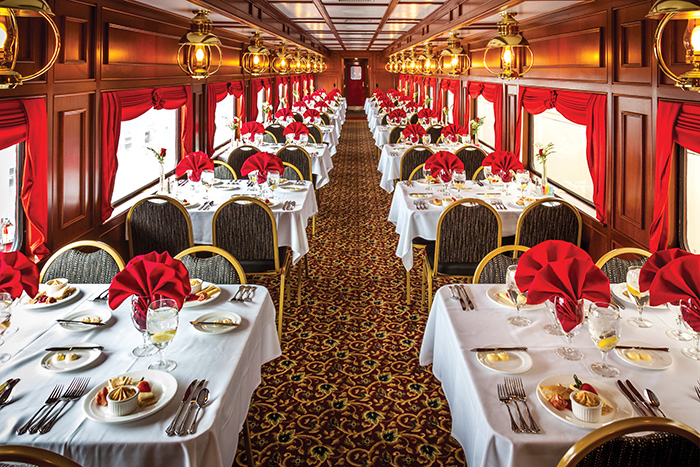 One of my fondest childhood memories is taking the train each summer with friends all the way from Nashville – 70 miles from my hometown of Hopkinsville – to camp in North Carolina. We'd board at night, climb into our Pullman berths, fall asleep to the soothing clickety-clack of the wheels and the next day, arise to wolf down breakfast in the dining car and marvel at America's backyards speeding by before arriving at our destination.
To this day, I believe there's nothing like a train ride.
If you're up for a journey on the rails, My Old Kentucky Dinner Train in Bardstown can provide a memorable experience a bit out of the norm for a business meeting, corporate retreat, committee luncheon, special occasion celebration, school outing or even an "escape day" from your own same old routine.
"People outside major cities rarely visit train stations and ride trains anymore," says Barry Corman, the attraction's general manager. "The train is so nostalgic. My grandfather could've been riding this train to visit family in Chicago in the '40s. And the décor is timeless. There's nice woodwork inside. Essentially, it's an upscale, sit-down restaurant, yet truly an out-of-the-ordinary venue."
He laughs. "And we don't slouch on the food."
Not by a long shot. The three-course lunches and four-course dinners are gourmet meals that can include a Kentucky Hot Brown or prime rib. You can even add a chocolate choo-choo to your dessert. And all are served on tables set with white linen, china and crystal.
---
IT'S FREE | Sign up for The Lane Report email business newsletter. Receive breaking Kentucky business news and updates daily. Click here to sign up
---
The three steel-skirted railroad cars used were built in the late 1940s after Word War II and refurbished far beyond the original interior design. You'll spend 2 ½  to 3 hours in total comfort and revel in a tasty meal while passing 37 miles of scenic countryside, including the 16,625-acre Bernheim Forest. You'll view historic spots such as Limestone Springs Junction, an Old English-style depot where wealthy and famous passengers once overnighted and where part of the 1981 Bill Murray/John Candy movie "Stripes," was filmed.
You'll also see Samuels' bourbon rickhouses, designed by T.W. Samuels bourbon founder Bill Samuels, who altered the roofs to allow better air flow and thus produce bourbon more efficiently. Heaven Hill now uses these rickhouses, the only ones of their design in Kentucky.
If the walls of the James Safe House could talk, lots of legendary tales would emerge from this home purported to have often sheltered notorious bandits Frank and Jesse James. And you'll chug past the Jim Beam Distillery, founded by the German immigrant Beam family and named for the member that revitalized the company after Prohibition.
Speaking of spirits, the Dinner Train also offers bourbon-tasting runs. Onboard, one of Central Kentucky's rock-star master distillers offers tastings of his distillery's lower, medium and higher-tier bourbons, plus a signature cocktail. While you're sipping and supping on your four courses, the distiller chats on the PA about their company and what exactly you're drinking.
Oct. 13 is the train's next scheduled tasting. If the play's the thing for you and you're up for amateur sleuthing, a Murder Mystery Theatre might be your ticket. You can participate with the professional actors or just keep on slicing your steak. The next performance trains are on Oct. 20, and Nov. 10 and 24.
Another possibility is to treat your sweetheart to an unforgettable New Year's Eve, when you can add roses and chocolates to the gourmet rail-riding experience.
For a meeting, groups can reserve the beautifully renovated 1860s Bardstown Depot, used for freight and passengers until 1953. The last remaining "dry-laid" limestone depot in the state, the structure is listed on the National Register of Historic Places and can comfortably accommodate 270. Attendees can meet here for, say, a training session – there's a 70-foot TV inside and complete A/V equipment – enjoy a catered lunch, resume meeting in the afternoon and take the train for dinner that evening. Options include a total buyout of the train's 136 seats, 64 in one car and 72 in the other, and/or scheduling a special extra run, depending upon the desired date. Groups of 10 or more nab special pricing.
Come holiday time, the kids can be your excuse for a ride on the train's Halloween Express on Oct. 27. Or opt for the North Pole Express, where you'll join Santa and Mrs. Claus for a yummy meal, crafts, singing carols and photos with the jolly ol' man himself. Check the train's website for a selection of November and December dates.
Started in 1988, My Old Kentucky Dinner Train was the brainchild of Nicholasville native and extraordinary entrepreneur R.J. "Rick" Corman. Corman began his company in 1973, right out of high school, with a backhoe, a dump truck and a mission to become one of the nation's leading railroad service providers – which he accomplished big-time. Now headquartered in his hometown, the R.J. Corman Railroad Group LLC has field locations in 22 states, offering an array of services that include railroad construction, short-line railroad operations, dispatch, industrial switching operations, emergency response (in Hurricane Katrina, for instance), track material logistics, distribution centers, signal design and construction…and an excursion dinner train.
"Everything else we do is Class I railroads, big business," says Barry, who's no relation to Rick. "The dinner train was something he wanted to bring back. With Mr. Corman, if there was something he wanted to do, he was going to find a way to do it."
Now you can appreciate his legacy while dining on My Old Kentucky Dinner Train. Find your options at kydinnertrain.com or call (502) 348-7300.
---
Katherine Tandy Brown is a correspondent for The Lane Report. She can be reached at [email protected].