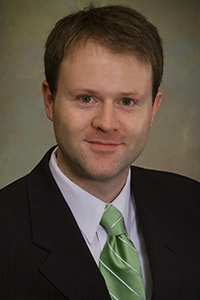 LOUISVILLE, Ky. — Dinsmore & Shohl LLP's Jeremy Rogers has received the Scripps Howard First Amendment Center's James Madison Award for outstanding service to the First Amendment.
Rogers received the award during a ceremony on Tuesday at the University of Kentucky, where the First Amendment Center is located. The Madison Award recognizes someone who has worked in one or more of these areas: open government and open records; promotion of the watchdog role of the press; defense against government or private censorship; or robust debate in the marketplace of ideas. It honors a long-term commitment to preservation or expansion of freedom of the press and/or freedom of speech.
Rogers is a partner and trial attorney in Dinsmore's litigation department with extensive experience representing media outlets and numerous other clients in defamation, privacy and other First Amendment-related cases, as well as access-to-information cases. He frequently publishes and delivers presentations on those topics as well. Rogers' First Amendment practice also focuses on religious freedom issues for church organizations and employers.
He has represented clients before the state and federal courts of Kentucky and Indiana, the Ohio Court of Appeals, the Ohio Supreme Court, the United States Court of Appeals for the Sixth Circuit and the Seventh Circuit and the United States Supreme Court.