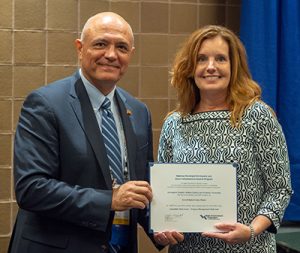 LEXINGTON, Ky. — Lexington has received national recognition for its stormwater program, picking up top awards among cities of similar size.
The National Municipal Stormwater and Green Infrastructure Awards are administered by the Water Environment Federation (WEF) Stormwater Institute, in cooperation with the U.S. Environmental Protection Agency. WEF, a worldwide organization devoted to protecting public health and the environment, runs the Stormwater Institute, a center for excellence and innovation focused on developing solutions to improve stormwater runoff.
The awards were presented to Jennifer Carey, the Division of Water Quality's Stormwater permit coordinator, at the Stormwater Congress Luncheon held during the 91st Annual WEF Technical Exhibition & Conference in New Orleans on Monday.
"I am particularly proud of how far we've come since 2005, when Lexington was sued for violations of the Clean Water Act," said Charles Martin, director of the Division of Water Quality. "In that time, we have improved from being one of the worst stormwater programs in the region to gaining national commendation for our efforts."
Lexington's application for the awards detailed the city's efforts to improve water quality and reduce stormwater runoff through infrastructure improvements, communication with business and industry, public education, the involvement of volunteers in collecting water quality data, and a focus on efficient and effective program management. Lexington's unique Stormwater Quality Projects Incentive Grant Program was also highlighted.
Lexington's stormwater program won both the Program Management Award and the Overall Highest Score Award. The three award categories are Program Management, Innovation and Overall Highest Score, which indicates the best performing program. For cities with populations of over 100,000, Kentucky set a national example with top scores in all three categories, with Louisville's Metropolitan Sewer District winning for Innovation.