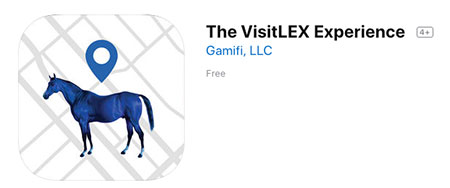 LEXINGTON, Ky. — The larger-than-life mural of Abraham Lincoln in downtown Lexington now comes to life – thanks to a new augmented reality app unveiled Thursday by VisitLEX.
The VisitLEX Experience App uses augmented reality (AR) to create an interactive walking tour and scavenger hunt downtown. People are encouraged to download the app and start the tour at the new VisitLEX office at the old historic courthouse downtown.  
The app will guide people through downtown while providing historical facts and turning select murals to life. Along the way, users can "collect" blue horses at each stop, then be rewarded for their experience. At the end of the app, the screen pops up and tells the participant to go claim the reward with the last stop being the Visitors' Center.
Rewards will vary but could include items such as a word-cloud T-shirt with horse-related terms on it, which has been a big seller in the Visitors Center.
"This puts Lexington at the forefront of technology because most AR apps in tourism are done by media companies like Lonely Planet and Layar, and not destinations themselves," said Gathan Borden, vice president for marketing. "In recent years, the travel industry has shifted, and visitors are now looking for a more hands-on personalized experience when they visit a destination. That starts with their mobile devices."
Borden said visitors are looking to experience a destination through interactive experiences like walking tours and scavenger hunts. There are 10 stops on the tour – from the Lyric Theatre to the Lexington Opera House to the Mary Todd Lincoln house, visitors will see history and culture come alive through this app. The entire tour takes about an hour.
"This new augmented reality experience combines the traditional methods of walking tours and scavenger hunts with new digital capabilities through immersive technology and appeals to the younger generation of travelers who are the fastest-growing segment in our industry," Borden said. "We believe that augmented reality has the potential to enhance our current tourism experiences through new modes of gamification, storytelling and visitor servicing. The app is fun for any age whether they live in Lexington or are visiting."
Gamifi by Fusioncorp, a Lexington-based technology company, developed the app for VisitLEX. Download the 'The VisitLEX Experience' app at https://itunes.apple.com/us/app/the-visitlex-experience/id1437816047?mt=8 to take the tour today.