By Robert Hadley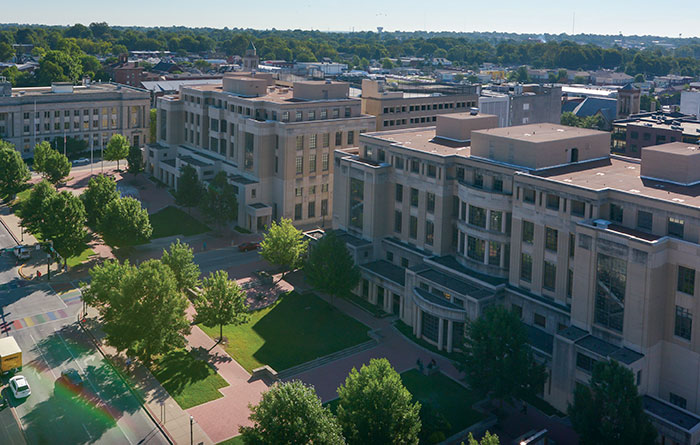 With a growing economy, as attested by the 4.1 percent GDP growth posted in the second quarter of 2018, the commercial climate in the United States and Kentucky is teeming with deals and entrepreneurial growth. Such a business environment creates work for law firms practicing in and around Central Kentucky and with more deals comes more need for oversight.
"As far as how the state of legal services is, I'd say it's pretty robust now in a number of areas, but slow in some others," said David Owen, who practices in the Lexington office of Dickinson Wright PLLC.

Three areas Owen specifically identified include transactional activity (legal work generated from mergers and acquisitions), litigation and personal estate planning.
An area that has gained ground with some firms is mediation, the practice of settling disputes out of court. James Frazier III, managing member of McBrayer, McGinnis, Leslie & Kirkland PLLC, credits mediation with driving growth at his firm.
"As attorneys, we do more than just go to battle in the courtroom," Frazier  said. "At our firm, we champion all methods of dispute resolution, because that keeps us focused on the best outcome for the client. It may seem counterintuitive, but litigation is generally the last resort. If we can work collaboratively to resolve a legal dispute, we will take that route first. We want what is best for the client, and mediation is quite often the first avenue we take."
A legal roundup published in the February issue of The Lane Report identified technological advancements and tax reform as additional drivers for activity in the legal community.
Below, two prominent Central Kentucky law firms discuss recent hot-button issues.
What cases are getting tried, and which ones are mediated for out-of-court settlements?
Stephen Amato, Member, McBrayer: There's no hard and fast rule for what goes to trial and what reaches a settlement through mediation. Our focus is on the client's goal, so we always work for the best outcome, regardless. Most of the time, this is accomplished through settlement. When a settlement through negotiation or mediation isn't possible, we go to trial, where we continue to seek out the best outcome for the client. In the highly competitive market for legal work, client service is what continues to set us apart.
David Owen, Member, Dickinson Wright: Really, the only area of practice we're seeing more activity in is personal injury, slip-and-fall cases, in Kentucky. And the reason for that is the Supreme Court has made some rulings over the last three to five years that have made it very difficult to dispose of those cases through motion practice. So you're seeing companies go to trial over those more than you did before.
Does your firm handle more business deals, transfers of assets/businesses or passing the torch from Boomers to new retirees?
Thomas Flanigan, Member, McBrayer: We still deal more with formation of businesses than succession plans as Boomers retire, but lately we have seen an uptick in the mergers and acquisitions that we handle. This might be correlative to the retirement of a large generation of entrepreneurs, but it's more likely to the result of a stronger economy in recent years. 
David Owen, Member, Dickinson Wright: On the transactional side we're seeing a lot of activity. On the litigation side, we saw a downturn when the economy turned downward, but what happens with litigation when you see change is you have more litigation. When things are stable, nothing really changes. When it's either a flat market or a booming market, you don't see a lot of litigation. But when you go from stagnant to booming or booming to stagnant, when people get out of position, you see more disputes.
But we have a steady group of what I would call dispute litigation. Estate planning because of all the tax changes and other changes going on, we're seeing a lot of activity there, as well.
In July 2018, SCOTUS decided in the Janus vs. AFSCME case for no union fees for nonmembers. How has that impacted Kentucky?
Cynthia Effinger, Senior Attorney, McBrayer: It's important to note at the outset that the Janus case concerned only public unions – unions of government employees – so the scope in Kentucky is limited, although this could impact unions of state and local employees such as teachers. With that said, Kentucky was already a "right to work" state, which prohibits unions from collecting fees from non-members in a "closed shop." The impact of the Janus case here will be minimal.
Earlier this year, Facebook CEO Mark Zuckerberg testified before Congress about privacy. What parallels are there in Kentucky, either in cyber privacy or in the protection of intellectual property?
William George, Senior Attorney, McBrayer: Kentucky individuals and businesses continue to be targeted by cyber pirates from around the globe. Unfortunately, these cyber pirates are often successful in holding hostage critical data and personally identifiable information. Kentucky businesses must take cyber security seriously and utilize all software and engineers to ensure that critical data is adequately encrypted and thoroughly protected. In Kentucky, KRS 365.732 governs the process when unencrypted personal identifiable information is breached, requiring businesses and individuals who hold the information to ensure timely and adequate notification to individuals whose personal identifiable information has been compromised. Remember, that certain data you provide to financial or healthcare institutions can also be protected through the Gramm-Leach-Bliley Act and HIPAA, respectively. The best way to avoid having your data breached and held ransom is to use common sense and to protect your data through the utilization of cyber security firms and software. 
David Owen, Member, Dickinson Wright: Zuckerberg, it seemed to me, was talking about the actions of Cambridge Analytics, which were clearly devious, but I'm not sure they violated the cyber laws. And nobody stole intellectual property. So, when we're talking about cybersecurity and intellectual property, I'm not really sure Zuckerberg's issues really resonate in that area. There are still laws that prevent conversion of intellectual property and there are certainly still cyber privacy issues that exist, predominantly in the retail world where you have a lot of financial information for your customers, credit cards, or in healthcare with social security numbers. Those are two areas you see a lot of it. But I'm not sure Zuckerberg really impacts that. But it's clearly a hot topic. You can't go to any company board of directors or executive seminar where cybersecurity isn't one of the topics.
Central Kentucky's wealth of legal firms have a thorough line of services.
McBRAYER
201 East Main Street
Suite 900
Lexington, KY 40507
mmlk.com
With a team of more than 60 of the best and brightest lawyers in the community, the McBrayer law firm continues to serve the people of Central Kentucky in an effective, efficient, and client-centered fashion.
Our diverse practice includes healthcare, banking regulations, mediation, employment, corporate, litigation, intellectual property, medical malpractice defense, professional liability, real estate, estate planning and government affairs, to name a few. The growth of the firm has served to bolster its considerable client services as it simultaneously strengthens its infrastructure to improve efficiency.
Our clients will always come first, receiving exceptional personal attention and the responsiveness that is the hallmark of the McBrayer practice. We are more than just a law firm, as evidenced by our commitment not just to our clients but to our community at large through multifaceted charitable and community involvement, the pillars of our organization.
In addition to offices in Lexington, Louisville, Frankfort, Greenup and Washington, D.C., the firm is recognized for its exceptional lobbying group, MML&K Government Solutions.
Bingham Greenebaum Doll LLP
300 West Vine Street
Suite 1200
Lexington, KY 40507
(859) 231-8500
BGDlegal.com
Bingham Greenebaum Doll LLP has served the legal and business needs of clients for more than a century, providing transactional, litigation, tax and government-related services to clients across a variety of industries and business sectors. The firm also provides estate planning and other services to individuals and non-profits.
Dickinson Wright PLLC
300 West Vine St., Suite 1700
Lexington KY 40507
(859) 899-8707
dickinsonwright.com
As an attorney in Dickinson Wright's Lexington office, Emma's practice includes helping clients resolve business and commercial disputes. She has successfully represented clients on matters involving commercial and residential real estate, construction and construction defects, leaseholds, trade secrets, environmental and toxic torts, trusts and estates, and contracts.
Bingham Greenebaum Doll LLP
bgdlegal.com
Boehl Stopher & Graves LLP
bsg-law.com
Bowles Rice McDavid Graff & Love LLP
bowlesrice.com
Delcotto Law Group PLLC
dlgfirm.com
Dickinson Wright PLLC
dickinson-wright.com
Dinsmore & Shohl LLP
dinslaw.com
Fogle Keller Walker PLLC
fkw-law.com
Fowler Bell PLLC
fowlerlaw.com
Frost Brown Todd LLC
frostbrowntodd.com
Gess Mattingly & Atchison PSC
gmalaw.com
Golden & Walters PLLC
wmrdefense.com
Goss Samford PLLC
gosssamfordlaw.com
Harris Federal Law Firm
federaldisability.com
Jackson Kelly PLLC
jacksonkelly.com
Kinkead & Stilz PLLC
ksattorneys.com
Landrum & Shouse LLP
landrumshouse.com
McBrayer
mmlk.com
Miller, Griffin & Marks PSC
horselaw.com
Morgan & Pottinger PSC
morganandpottinger.com
Rose Grasch Camenisch Mains PLLC
rgcmlaw.com
Steptoe & Johnson PLLC
steptoe-johnson.com
Stites & Harbison PLLC
stites.com
Stoll Keenon Ogden PLLC
skofirm.com
Sturgill, Turner, Barker & Moloney PLLC
sturgillturner.com
Ward, Hocker & Thornton PLLC
whtlaw.com
Wyatt, Tarrant & Combs LLP
wyattfirm.com