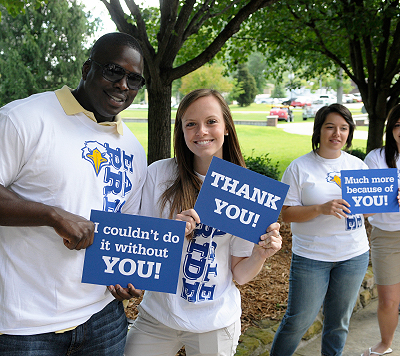 MOREHEAD, Ky. — Morehead State University officials announced last Friday that the University is launching a $15 million fundraising campaign over the next three years for the sole purpose of expanding scholarship opportunities for students.
The campaign, branded as the "Soar to New Heights Scholarship Campaign," was announced to hundreds of alumni and members of the MSU community at a ceremony dedicating the Elmer R. Smith College of Business and Technology and the ribbon-cutting ceremony re-opening the Adron Doran University Center after two years of significant renovations.
"Morehead State University is a very special place. Our academic programming is vital and our facilities are extremely important. However, during my time here, I have learned that MSU is a special place primarily because of the people.  The people, all of them Eagles, coming from every walk of life and every generation, are the common thread of not only what makes MSU special, but also what we are here to celebrate today," said President Morgan. "Everything that has happened here in this ceremony centers around our people providing a path for the students of today and tomorrow, so they are able to soar to new heights. Both of these are momentous events in and of themselves, but today these two things come together to form cornerstones of a Scholarship Campaign that will provide much needed financial support to our student body."
These scholarships will address the priorities of recruitment, retention and degree completion. More than 90 percent of MSU's student body receives some type of financial aid and private dollars are critical to meet the needs of these students. For more information about the campaign, please visit www.moreheadstate.edu/soarcampaign.