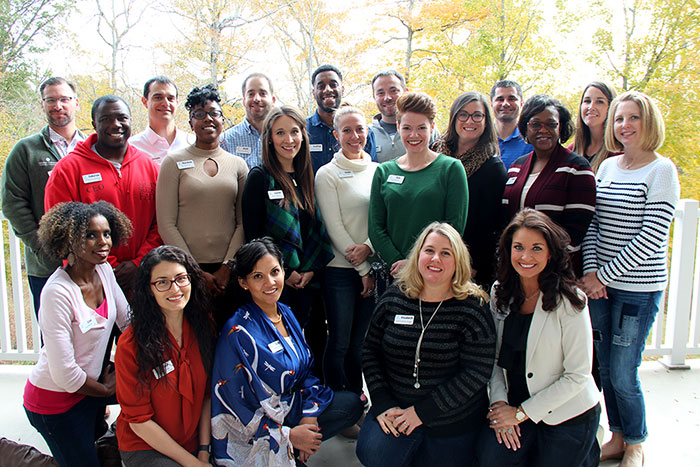 LOUISVILLE, Ky. – Forty-four emerging leaders have been selected for the Leadership Louisville Center's Ignite Louisville Class of Spring 2019 that will run from October 2018 – April 2019. This is the 21st class of the award-winning program, presented by Norton Healthcare, which has graduated over 915 up-and-coming leaders and offers two classes each year, preparing next-generation talent for expanded roles in their organizations and in the community.
Ignite Louisville is a seven-month program that grows mid-level professionals by developing the key components of leadership. In addition to the core curriculum developed by Norton Healthcare, Brown-Forman Corporation, BB&T and the U.S. Army, the class will participate in the Ignite Louisville Challenge. The Challenge provides an opportunity for the class to take on a project proposed by a local nonprofit and gain hands-on experience performing on a team and serving the community.
Members of the Ignite Louisville Class of Spring 2019 (October 2018 – April 2019) are:
Jennifer Asbrock, Frost Brown Todd LLC; Andre Barrie, Farm Credit Mid-America; Jessica Bickwermert, University of Louisville Hospital; Amy Blanchard, Restaurant Supply Chain Solutions; Sara Bowman, Flavorman; Lisa Brents, Nativity Academy; Christopher Carrico, Yum! Brands, Inc.; Nazifa Cassity, Louisville Metro Revenue Commission; Amanda Caufield, Dant Clayton Corporation; Morgan Eklund, Fund for the Arts; Da'Marrion Fleming, Sowing Seeds with Faith; Molly Fox, BrightSpring Health Services; Raechele Gray, Creative Spirits Behavioral Health; James Halaris, Brown-Forman Corporation; Lauren Hitron, Sacred Heart Schools; Cassidy Hyde, Make-A-Wish Ohio, Kentucky and Indiana; Emily Irwin, Wyatt, Tarrant & Combs, LLP; Jonathan Jeanty, NIMBUS; Lauren Johnson, Louisville Tourism; Malena Kraig, Anthem Blue Cross Blue Shield; Nick Kues, Humana Inc.; Matthew Lea, Springstone; Elizabethe Liebschutz-Roettger, University of Louisville-College of Business; Lisa London, University of Louisville; Jenita Lyons, Norton Healthcare; Alex Marks, Hilliard Lyons; Jennifer Metro, Norton Healthcare Foundation; Jason Miles, Republic Bank; Liz Morgan, Courier Journal Media; Jennifer Mulvihill, LG&E and KU Energy LLC; Maria Pepitone, Humana Inc.; Erin Quinlan, The Kentucky Center Governor's School for the Arts; Tihisha Rawlins, AARP; Luke Rebholz, Messer Construction; Joseph Reverman, Louisville Metro Government; Brett Rosenblum, Kentucky Democratic Party; Ann Smith, Presentation Academy; Michael Somervell, CBRE; Angela Champion Sprowl, St. Vincent de Paul Louisville; Casey Stallsmith, Hosparus Health; Julia Stough, Tandem Public Relations; Kate Vance, Yum! Brands, Inc.; Jason White, KPFF Consulting Engineers; and Daniel Wirth, American Red Cross.