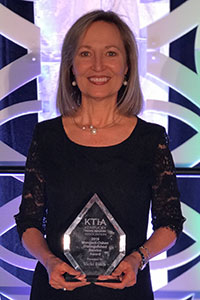 BOWLING GREEN, Ky. — Vicki Fitch, the long-time executive director of the Bowling Green Area Convention & Visitors Bureau, received the Mangeot-Oaken Distinguished Service Award at the 2018 Kentucky Travel Industry Association Annual Conference.
The Bowling Green Area CVB received an additional five Traverse Awards for Excellence in Tourism Marketing from the KTIA. The awards were presented on Nov. 14 during the Traverse Gala Awards Dinner, held at the Owensboro Convention Center.
Fitch retires Nov. 30 after a 27-year career with the Bowling Green Area CVB, serving for 14 years as marketing director before starting her tenure as executive director.
"I was both shocked and humbled when my name was called," Fitch said. "My passion is for promoting tourism, both in Bowling Green and the commonwealth, and I am honored to receive this award. This industry has been incredibly good to me, and I am so thankful for a career that I love and the great people I met because of it."
She was nominated by several of her peers in Kentucky tourism, including Sherry Murphy, who started as the new executive director of the Bowling Green Area CVB on Nov. 12.
"It's not unusual for Vicki's peers to turn to her for guidance," Murphy said. "She truly puts the visitor first when making suggestions on how to promote tourism, even in other parts of the state. This big picture mentality is one of the many reasons why she is so well respected and admired across our industry. Vicki has worked tirelessly to ensure our hospitality industry continues to have a positive impact on our communities and state."
In addition to Fitch's honor, the Bowling Green Area CVB received five Traverse Awards for Excellence In Tourism Marketing. The CVB received a Silver Award for its Vette Adventure Press Trip for PR Campaign. It won Bronze Awards for: the Bowling Green Dining Guide (a partnership with College Heights Media, part of the Student Publications Department at Western Kentucky University) in the Booklet or Guide category; the Hot Rodder's Paradise and Family Fun Content for Digital Marketing; the KTIA Dine Around Post Card for Event/Meeting/Conference Material; and the Welcome to Bowling Green Hotels & Attractions Display for Out-of-Home Advertising.