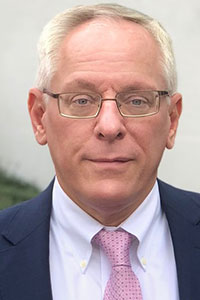 By Hilary Burns
Skip Hageboeck didn't want to move to Chicago.
Hageboeck was a treasury manager in Indianapolis when the bank he worked for was sold in 1995 to First Chicago. Rather than relocate to the Windy City, he agreed to become the chief financial officer at Peoples Bank, a family-owned bank in Indianapolis.
For Hageboeck, it was a logical decision. He wanted to stay at a small community bank, and he jumped at a chance to try his hand at being a CFO.
"I thought this would be great experience, even if something happened to the bank," he recalled. Peoples had "been in the family 107 years, so I figured that probably nothing was going to happen to it."
The decision altered the trajectory of Hageboeck's career. First Chicago became part of Bank One, which in turn was sold to JPMorgan Chase, the nation's biggest bank and a mainstay of the New York banking scene.
Hageboeck would go on to become president and CEO of City Holding, the parent company of City National Bank of West Virginia in Charleston, in 2005.
Since joining City, he has helped oversee a turnaround and navigated the company through the financial crisis. Pursuing acquisitions in nearby markets, he has built a solid performer out of a bank based in a state that isn't known for its growth potential, and City has more than doubled in size, to $4.4 billion in assets.
Hageboeck "is incredibly thoughtful and diligent," said Russell Gunther, an analyst at D.A. Davidson. "He does his homework, pencils it out and, when the math works, he's going to move – but it's not a knee-jerk reaction. It's something that he's spent a considerable amount of time and energy on."
A meticulous approach to expansion, along with an ability to consistently produce solid results, explains why Hageboeck is one of American Banker's Community Bankers of the Year for 2018.