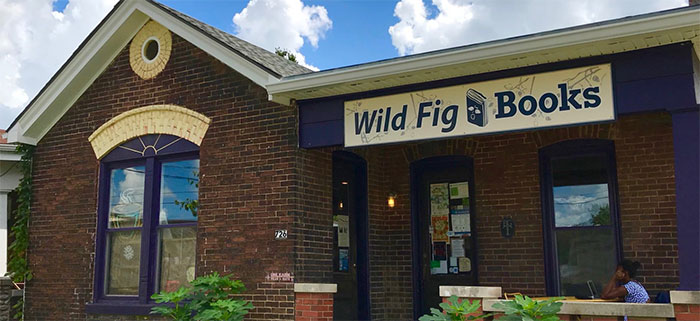 LEXINGTON, Ky. — Wild Fig Books and Coffee, the only black-owned bookstore in Kentucky, reopened last month under new ownership.
After two months of hard work, love and dedication the community group now called the Wild Fig Worker Cooperative has raised over $35,000 in donations
and pledges to purchase the store from previous owners, Crystal and Ron Wilkinson.
When the Wilkinsons announced their intention to sell the business at the beginning of September, April Taylor, a local community organizer, helped lead the efforts to raise the necessary funds for the community who found a safe, sacred space within the walls of the bookstore to co-own the business together and carry on the legacy of inclusive, grounding space where community members could find their voice and collective vision.
With the bookstore situated in a rapidly gentrifying neighborhood on Lexington's North Side, community members are working together to re-open the Wild Fig as a space where established residents and new residents can learn, heal and grow. Cooperatives have historically been a way for subjugated and disenfranchised communities to mutually meet each other's needs when the larger economic and social structure do not.
"The Wild Fig will continue the legacy of being Kentucky's only black-owned bookstore as a worker cooperative," Taylor said. "Half of the world's population rely on cooperatives to meet their basic needs, and Wild Fig's worker cooperative meets the community's need of having a safe, inclusive space where everyone is welcome and where the community can organize and build."
The reborn Wild Fig has incorporated past programming such as Drag Queen Story Time, documentary screenings and community events. But is also focusing on ecommerce with a new website, wildfigbooksandcoffee.com and is making sure to keep up with the latest book releases that deal with POC, the LQBTQ community, women and children/teens.
Holiday pop-up market
On Friday, Dec. 7 Wild Fig will host a holiday pop-up market. A variety of vendors will join the Wild Fig in offering holiday gifts and specials during this one time event from 6 p.m.-10 p.m.
Featured vendors include Honey Chile Apparel, SJ's JEMZZ and Angelic Skintimacy. Our usual retail offerings will also be available including handmade crystal & gemstone jewelry, original art, skin care, smudging accessories, healing stones and crystals as well as our full assortment of books.
During the month of December the Wild Fig will also hold our first Give Books Campaign. Books make wonderful holiday gifts for adults and children. To encourage books as gifts especially for children the store is running specials on children's books for the duration of the holiday season as well as a Giving Tree to provide books to community families. Purchase a $10 gift card to place on the Giving Tree for families to use to purchase books as gifts for their children.