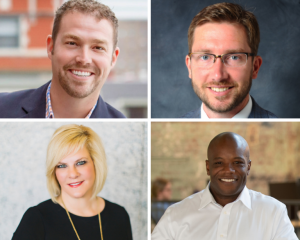 LOUISVILLE, Ky. — On Wednesday, April 3, Venture Connectors will host a panel of local leaders who will discuss how their organizations are providing the cornerstones of the Louisville region's innovation economy in order to fuel economic development and ensure a vibrant startup community.
 The panelists are:
Tendai Charasika, Venture Connectors chairman and CEO of SuperFan Inc., will moderate the discussion.
At LEAP, Henshaw is bringing together entrepreneurs, corporations, venture capitalists and the community to strengthen the innovation ecosystem in the region. He most recently served as vice president for growth, startups and technology for Cintrifuse, a Cincinnati-based startup support organization and venture fund. Henshaw also is a founding member of rapid prototyping studio Spry Labs.
In his current role, Metcalf works to promote internal and external collaborations and build strong connections with the research community, leveraging the strengths and assets of UofL to move discoveries from the conceptual stage through development. He also serves as the director of the Entrepreneurship Law Clinic at the university's Brandeis School of Law, where he supervises a small group of upper level law students as they provide legal support to entrepreneurial students throughout the university, including students from the Entrepreneurship MBA program.
York Day is leading LHCC's initiatives to improve both the local and national healthcare economy. She joined LHCC after a 21-year career with Delta Dental, most recently as the company's chief operating officer. She is co-founder of the Unbridled Charitable Foundation, a 501(c)3 organization that holds events such as the Unbridled Eve Gala to raise money for local charities and raise Kentucky's profile nationally.
SuperFan is a provider of mobile and web applications that help high schools, colleges and professional teams connect with their fans in order to increase fan engagement and revenue. As CEO, Charasika has overseen the company's growth from startup into a million-dollar enterprise serving partners around the world. He has served as chairman of Venture Connectors since 2017, and also held other leadership roles within Louisville's most established entrepreneurial organization over the past six years, including president-elect and president.
Venture Connectors' monthly luncheons are held at the Muhammad Ali Center, 144 N. Sixth St., on the first Wednesday of the month. Doors open at 11:45 a.m., and the meeting runs from noon-1 p.m. Networking takes place after the lunch.
Each meeting features:
30-second open mic announcements about upcoming new companies, events and programs.
The featured startup, a 5-minute presentation by an entrepreneur interested in obtaining capital to start up or support growth and expansion of his or her business.
A guest speaker or a panel discussion featuring entrepreneurial success stories or trends affecting today's entrepreneurial climate.
Registration is required at www.ventureconnectors.org. Members attend free; associate members pay $30. Guests who register online by noon the day before the lunch pay only $40.