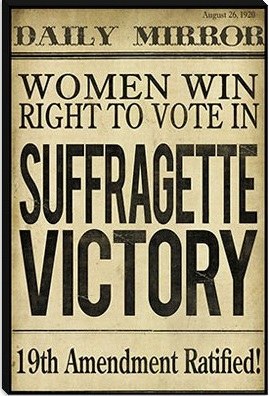 LEXINGTON, Ky. — Across the United States there is a growing movement to recognize noteworthy women and their historical contributions through public monuments. Less than 7 percent of the 5,193 monuments in the nation recognize women.
In Lexington, Ky. there are none. LexArts is about to change that with the Breaking the Bronze Ceiling initiative.
The goal is to have a monument in place in a prominent downtown Lexington location in 2020 to celebrate the 100th anniversary of the 19th Amendment, enacting women's right to vote and the role Lexington / Fayette County women played in that historic event.
The Lexington Fayette Urban County Council and Mayor of Lexington have come together with private companies and community members to support the erection of a commemorative piece of public art in honor of the history of women in this area. Breaking the Bronze Ceiling is the significant first step in creating public art that more fully represents the diverse history of our city, beginning with commemorations of visionary and inspiring women.
The commemorations honoring our women's history will:
Commend the history of women in their organizations, activities, accomplishments in the Lexington-Fayette area;
Demonstrate support for womens' contributions and the continuing empowerment of all women in the community, and;
Serve as a source of inspiration and encourage to all citizens
The public art installation is part of the national celebrations in 2020 of the centennial of the 19th Amendment to the U. S. Constitution, recognizing the right of women to vote.
Breaking the Bronze Ceiling overview
Breaking the Bronze Ceiling (BTBC) is initiating a Request for Qualification from individual artists, designers or art/design teams for creation of a three-dimensional permanent outdoor artwork that celebrates the history of the Women's Suffrage movement in the pursuit of gaining the right to vote for women.  Artists are asked to design artistic elements that celebrate women in Lexington's history and inspire civic engagement in the space.