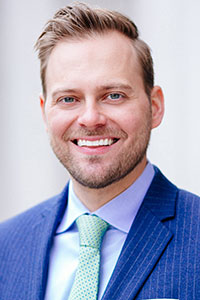 LEXINGTON, Ky. — The Lexington Marriott City Center Hotels announced Tuesday that Jason Perkins has been named director of operations at the Lexington Marriott City Center and Residence Inn Lexington City Center.
"We are thrilled to welcome Jason back home to Lexington. His enthusiasm, depth of knowledge, and ability to create memorable experiences unique to each guest will undoubtedly be tremendous assets to our hotels," said Barry Kuhnke, general manager.
Perkins was born in the Bluegrass State, but at a young age his family moved to the Florida panhandle.
He began his hospitality career as a bellman and immediately found his passion for hotels. He earned his B.S. degree in hotel and restaurant management from the University of South Florida in Tampa, Fla. Perkins has worked within the Marriott umbrella of brands for 11 years in various roles within their operations teams.
Perkins has been a key player in the success of the re-branding of Marriott's full-service brand in Charlotte, N.C., and piloted numerous new concepts for Marriott across the globe. Perkins and his teams have been recognized many times as top performers within the Marriott brand for guest satisfaction.
"This is a dream job for me," said Perkins. "I have finally made it back home to the state of Kentucky after living in four other states across the country. I could not be more thrilled to join this dynamic team and have the chance to be close to my family once again. These hotels will add to so many exciting opportunities for Lexington and the state of Kentucky."
Perkin's wife, Jenn, will be joining him on this move. They are approaching their one-year anniversary in July.