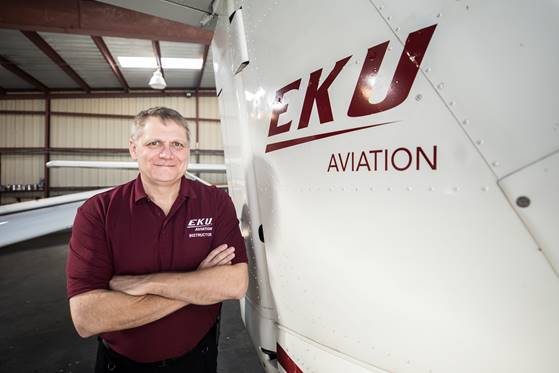 RICHMOND, Ky. — Eastern Kentucky University's recently hired chief flight instructor is new to the job, but very familiar with EKU.
After serving as a professional pilot for more than two decades, Sean Howard has returned to his alma mater to train the next generation of flyers in EKU's aviation program. He is excited to be back on campus.
"It feels like home to me, this program, this university," said the 50-year-old father of two. Howard earned a bachelor's in aviation in 1997, and an MBA in 2000. He was a non-traditional student, having served in the U.S. Coast Guard prior to attending the University.
"Sometimes an opportunity comes when you don't expect it. I wasn't really looking for a job, but I was contacted about this opening and wanted to give it a look," Howard said.
Dennis Sinnett, director of aviation at EKU, spoke highly of his new hire, praising his exceptional flying credentials. Howard has served as a pilot and private flight instructor since 1997.
"Sean brings a high level of professionalism and expertise to our flight program," Sinnett said. "He has a strong background in flight training and has demonstrated a record of success."
The worldwide pilot shortage identified in the last several years, coupled with the opportunity to pass on his years of flying experience, were two reasons the role felt like a good fit, Howard said.
"In today's market, there is a pilot shortage and a flight instructor shortage. It's a very unique situation. In the history of aviation, it has never been like this before," Howard said. "So it's a very interesting time to get back into the education and flight-training business."
By some estimates, nearly 800,000 new pilots will be needed in the next 20 years as more and more pilots reach mandatory retirement age and worldwide demand for air travel grows. While the shortage has caused problems for the airline industry, it has created an opportunity for young pilots who graduate from aviation programs like EKU's. Airlines now compete to hire them. Sinnett added that at EKU, he'd like to hire even more folks like Howard, and if there are flight instructors willing to teach eager young aviators, they'd be welcome here.
"During my time as a student and at all times before, it was a hard road and there were a lot of dues you had to pay," Howard said. "It's not like that now."
Howard said his most memorable time during his career occurred while working for the Commonwealth of Kentucky, performing the federal waterfowl survey. "We were flying just a few hundred feet off the ground for days at a time," he said. "It was a challenge, but really fun."
In his new role as chief flight instructor, while there will be time for fun, Howard sees his role of training capable, safe, professional pilots as a very serious undertaking.
"I have a personal interest in making sure everyone who learns from me knows what they're doing and gets the very best training they can," he said.
"Sean's role as the EKU aviation program's chief instructor is critical to the success of the program. He will have a direct impact on the day-to-day training of our student pilots," Sinnett said. "We are fortunate to have him join our program, and I am confident that he will have a direct, positive impact on its success moving forward."
Howard lives in Lexington with his wife and children. His favorite aircraft is the Beechjet 400A.