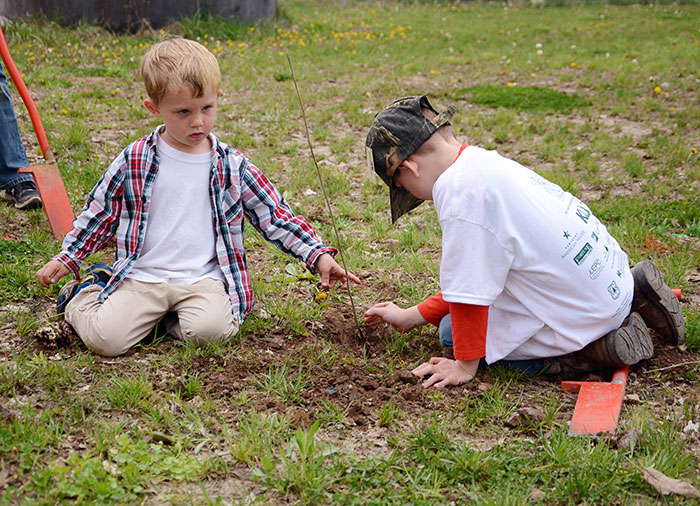 LEXINGTON, Ky. — Reforest the Bluegrass, Lexington's annual tree-planting event, will celebrate its 20th anniversary Saturday by returning to Masterson Station Park, the site of the program's first planting.
More than 15,500 volunteers have planted some 136,000 tree seedlings over the years, restoring 185 acres of floodplains.
"Trees have many benefits – cleaning air and water, cooling urban environments, even improving people's mental and physical health," said Mayor Linda Gorton, a long-time supporter of the program. "Reforest the Bluegrass is an opportunity for trees to bring our community together, making Lexington a better place to live."
Volunteers are needed for this year's event, which will be held 9 a.m. – 1 p.m. on Saturday. It is hoped that 7,000 more seedlings will be planted, bringing the total number of trees planted to 143,000. Masterson Station Park is at 3051 Leestown Road. The seedlings will be planted near the playground (across the road from the fairgrounds area.)
"We are excited to host our 20th Reforest the Bluegrass event," said John Saylor, who manages the city's forestry operations. "Twenty years of planting trees in Fayette County is a huge milestone, and we're proud to be a part of this vital role in improving Lexington's tree canopy and environment."
Kentucky American Water, Kentucky Utilities and Lexmark were honored Monday for being founding sponsors who have supported the program all 20 years. Other businesses were also recognized for their support of Reforest including Fortune Collision, Big Beaver Tree Service, Sekisui, Baker Iron and Metal and Toyota Tsusho America.