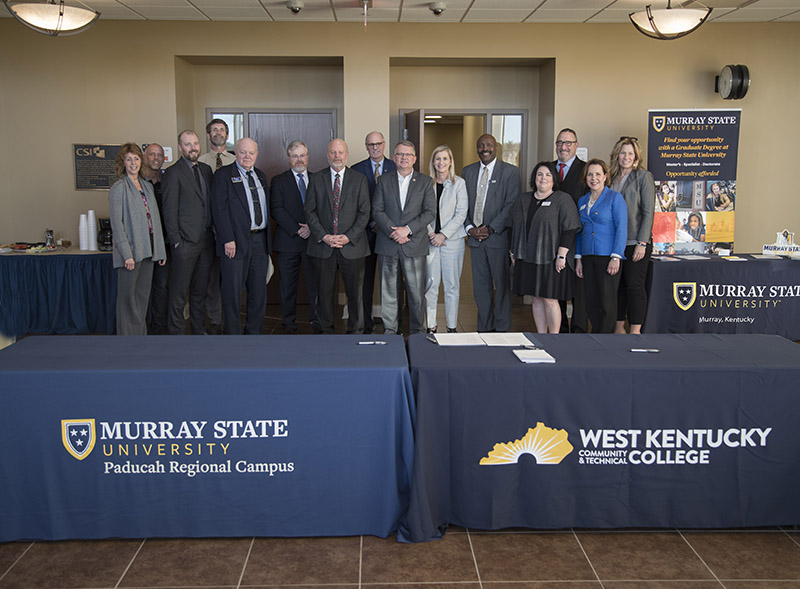 MURRAY, Ky. — An articulation agreement between Murray State University and West Kentucky Community and Technical College was signed April 9 that will provide WKCTC students who have earned an associate's degree a seamless transfer process into Murray State's nonprofit leadership studies program.
Administrators, faculty, staff and students attended the signing at Murray State University's Paducah Regional Campus as Murray State University President Dr. Bob Jackson and WKCTC President Dr. Anton Reece signed the agreement. Joining them were Murray State University Provost Dr. Mark Arant, Nonprofit Leadership Studies Program Director Dr. Peter Weber, College of Education and Human Services Dean Dr. David Whaley and Dr. Paul Lucko, chair of Murray State's Department of Community Leadership and Human Services.
WKCTC representatives included Associate Vice President of Academic Affairs Dr. Karen Hlilnka, Logistics and Operations Management Program Coordinator Allison McGullion and Criminal Justice Program Coordinator Gary Reece.
"The articulation is a testimony to the commitment of Murray State and WKCTC to the economic development of our region, and the nonprofit leadership studies program provides an ideal bridge between our learning communities and the communities of practice engaged in improving the quality of life in western Kentucky," Weber said.
"This is another step in our partnership with Murray State University and our regional outreach to help our students find success through coursework in business, criminal justice and a substance abuse recovery coach to finish an associate degree and complete a four-year degree." said Dr. David Heflin, WKCTC vice president of academic affairs. "We're excited and look forward to more memorandums of agreement that will benefit our students as they continue on their educational pathway."
Murray State University's nonprofit leadership studies program is committed to building a coordinated response to growing educational, research, and service needs of organizations dedicated to improving the quality of life in communities around the world. The program offers a broad-based approach to the development of the future leaders of the nonprofit sector through undergraduate and graduate degrees, as well as leadership, networking, funding and promotion of quality practice.
Through its educational programs, as well as membership in the leading national organization for scholars and practitioners, the Association for Research on Nonprofit Organizations and Voluntary Action (ARNOVA), the nonprofit leadership program has positioned itself at the cutting edge of curriculum development, scholarship, and career networking nationally.
"The articulation reflects the growing demand for professional training in leadership and management of nonprofit organizations," Weber said. "According to the most recent data available, there are over 19,000 nonprofits in Kentucky and over 19 percent of recent postsecondary graduates held positions within these nonprofits. The nonprofit sector is one of the largest employers, both regionally and nationally, and this articulation thus provides pathways for employment in a dynamic and meaningful labor market."
Allison McGuillion, WKCTC business administration and logistics program coordinator, said many WKCTC students seek to work for nonprofit organizations because they may have benefited from the services provided by local nonprofit agencies in their own personal lives.
"The desire to give back and help others is so strong amongst WKCTC students," McGuillion said. "This agreement is an exciting opportunity for our students who want to be part of a nonprofit organization and now have this educational pathway to a bachelor's degree. I am grateful for another transfer opportunity for our students with Murray State University. We are both committed to student success."