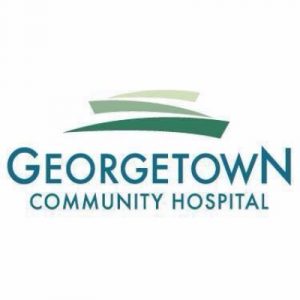 GEORGETOWN, Ky. — Georgetown Community Hospital (GCH) has been named a Screening Center of Excellence by the Lung Cancer Alliance (LCA) and has been designated a Lung Cancer Screening Center by the American College of Radiology (ACR) for its ongoing commitment to responsible lung cancer screening. Low dose CT screening for lung cancer carried out safely, efficiently and equitably saves tens of thousands of lives a year.
"We are proud and honored to be working with Georgetown Community Hospital as a Lung Cancer Alliance Screening Center of Excellence. Their commitment to practice responsible lung cancer screening will lead to advancements in research and many lives saved. They are an example to follow," said LCA President and CEO, Laurie Fenton Ambrose.
In order to receive this elite distinction, facilities must be accredited by the ACR in computed tomography in the chest module, as well as undergo a rigorous assessment of its lung cancer screening protocol and infrastructure. Also required are procedures in place for follow-up patient care, such as counseling and smoking cessation programs.
Designated Screening Centers of Excellence are committed to provide clear information based on current evidence on who is a candidate for lung cancer screening, and to comply with comprehensive standards based on best practices developed by professional bodies such as the American College of Radiology (ACR), the National Comprehensive Cancer Network (NCCN) and the International Early Lung Cancer Action Program (I-ELCAP) for controlling screening quality, radiation dose and diagnostic procedures within an experienced, multi-disciplinary clinical setting.
Lung cancer screening with low-dose computed tomography scans, and appropriate follow-up care, significantly reduces lung cancer deaths. In December 2013, the United States Preventive Services Task Force recommended screening of adults aged 55 to 80 years who have a 30 pack-year smoking history and currently smoke or have quit within the past 15 years. Lung cancer is the nation's leading cancer killer – taking the lives of more people each year than breast, colon and prostate cancers combined.
"Georgetown Community Hospital is dedicated to providing patients with the highest quality care. Low dose CT screening has shown to be the only proven method to detect lung cancer at an early and treatable stage. We are thrilled to be part of this elite group, setting an example for responsible screening practices across the country," said William Haugh, chief executive officer of Georgetown Community Hospital.
For more information about the Lung Cancer Screening Center designation, visit acr.org/Quality-Safety/Lung-Cancer-Screening-Center. For more information about Lung Cancer Screening at Georgetown Community Hospital, visit https://www.georgetowncommunityhospital.com/our-services/oncologyhematology/lung-cancer-screening.