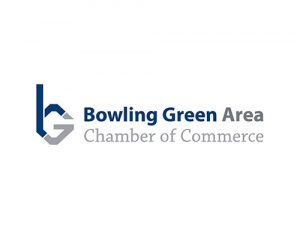 BOWLING GREEN, Ky. — The Bowling Green Area Chamber of Commerce today awarded two prestigious awards to outstanding business people in the community with the 2019 ATHENA and the 2019 Small Business Person of the Year.
ATHENA
Lisa Dunn of US Bank was named the 34th recipient of the ATHENA Award, given by the Chamber and Martin Dodge Jeep Chrysler RAM. Lisa has been a Chamber ambassador since 2008 and has been involved with several Chamber committees. She is an active United Way volunteer and a member of the Leadership Bowling Green Alumni Association and Women's Fund of South Central Kentucky.
"Lisa exemplifies the ATHENA award in so many ways. Five years ago, she took on added responsibilities at US Bank and began to work from her office at home," said 2014 ATHENA Michelle Gorman. "While many people would not have been as involved in the community during a move like this, Lisa increased her involvement. She is and has been an Ambassador for the Chamber for many years and takes the lead with many Non-Profit programs. She pours herself into her community and church and continues to lead and accomplish great things throughout our community and at US Bank."
The nominees for the award were:
Jean Cherry, Med Center Health
Lisa Dunn, US Bank
Monica Wardlow, Citizens First
"The ATHENA award recognizes women in our community who have been positive role models, are successful in their profession and who have contributed significantly to our community in some way, we believe Lisa portrays every quality of a true ATHENA, and we are so proud she is such a significant part of the Bowling Green community," said Chamber Chairman Steve Davis.
2019 Small Business Person of the Year
Andy Robinson opened his first Chick-fil-A restaurant in Atlanta, GA in 1997. One year after its opening, Robinson was awarded the prestigious Symbol of Success from Chick-fil-A recognizing exceptional sales growth. In search of a smaller community, Robinson and his family moved to Bowling Green in 2004 to open the Chick-fil-A on Campbell Lane. In 2011 Robinson was awarded a second symbol of success and was celebrated at the national franchise conference for achieving $8.4 million in sales for 2018. Robinson was also awarded the new Chick-fil-A franchise scheduled to open on Scottsville Road this August.
"Andy is a hardworking entrepreneur with a true passion for his job, family and God. He truly cares for his community and selflessly gives back to make it a better place for all," said Ed Griffin of Griff's Deli.
Since 1985, the Chamber has annually named a community member the Small Business Person of the Year. The award recognizes a business leader who:
Owns and operates a for-profit company that employs 100 or fewer full-time employees
Has invested his or her own money in that small business
Has experienced recent business growth
Is involved in the development and growth of the Bowling Green community
The nominees for the 2019 Small Business Person of the Year were:
Fuji Avdic, Stryker Logistics
Neal Clayton, The Fireman Moving Company
Paul Burrell, Burrell Management Company
Andy Robinson, Chick-fil-A
"Our selection committee is faced with an incredibly tough decision each year when choosing from such strong nominees," said Chamber President and CEO Ron Bunch. "The highest quality of businessmen and women represent our small business community, and we are honored to recognize those leaders through this award. Small businesses make up 90 percent of the Chamber's partnership, and we couldn't accomplish what we do without their support."
Both award recipients will be honored at the Chamber's Excellence Awards Luncheon on May 7 at 11:30 a.m. at the National Corvette Museum. The event is the highlight of Small Business Appreciation Month and will feature both recipients as keynote speakers. Online registration is required at www.bgchamber.com.