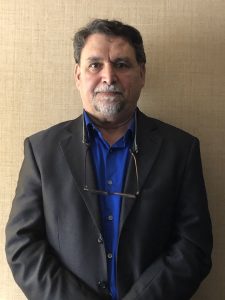 MURRAY, Ky. — Murray State University's Dr. Abdul Yarali, a professor of telecommunications systems management, has been selected to receive the 2019 Neil Weber Award for Excellence in the Jesse D. Jones College of Science, Engineering and Technology.
The Weber Award was established as a special tribute to former college dean Neil Weber after his retirement from Murray State University. The endowment for this award was provided through a generous gift by Dr. Jesse D. Jones, a JCSET alumnus who is a strong supporter of Murray State faculty and students and one who shares the University's commitment to excellence in math and science education.
Recipients are chosen by a committee, with selection based on the nominee's achievements in several areas, including outstanding service and contributions to the University through academic research grants and development, classroom activities, student recruitment, governmental relations, publications, program leadership and/or assistance with matters of accreditation. Recipients receive a $2,500 stipend for the next academic year to be used for research, conferences, travel or other projects.
"I am very grateful for the excellence that Dr. Yarali provides Murray State students, both within the classroom and via his research contributions," said Dr. Claire Fuller, dean of the Jesse D. Jones College of Science, Engineering and Technology. "He has helped ensure that our telecommunications and cybersecurity programs remain on the cutting edge of these quickly changing fields."
Yarali earned his Bachelor of Science in electrical engineering from the University of Florida and his Master of Science in electrical engineering from George Washington University. He earned his Ph.D in electrical engineering from Virginia Polytechnic Institute and State University (VPI) in Blacksburg, Virginia. Before his career at Murray State, Yarali made a name for himself in the field of wireless mobile communication technology, leading engineering and research teams for major companies including AT&T, Motorola, Sprint and more.
In his 16 years at Murray State, Yarali has taught graduate and undergraduate courses in wireless and networking fields, while also working to develop the University's wireless option program. His research in wireless telecommunications systems has received widespread acclaim, including an award for his research paper on telecommunications at an international conference in 2010. Yarali has also worked with the Department of Homeland Security on two projects related to GPS precise timing for wireless and wired communications networks.
"Teaching and research have been my dream since I was 9 years old and I have enjoyed working with our students as a teacher, mentor and advisor," Yarali said. "I am very honored and humbled to have been awarded the Neil Weber Award for Excellence and to now be among past recipients, whom I admire greatly. I would like to congratulate all of this year's nominees. A special thanks to those who nominated me. I also express my gratitude to the committee for selecting me.
"This award has significant value for me and I am very appreciative of our former deans as well as the new dean of the Jesse D. Jones College of Science, Engineering and Technology, Dr. Claire Fuller, for their leadership."
Yarali said he was anxious visiting Murray for the first time during his faculty interview in 2003, but there were three reasons he quickly found a home with the Racer family.
"First was observing the great potential of the TSM program in its abilities to adapt to the ever-changing field of mobile telecommunications," Yarali said. "Second was the TSM program's faculty, who received me in the most hospitable manner I could have hoped for. And finally, our former dean Dr. Neil Weber; I still remember our conversation during that first meeting on the day of my interview. He became an excellent mentor to me, and with his inspiring advice, I became more determined than ever to face any challenge so that our TSM program could reach its full potential. My first meeting with former provost Dr. Gary Brockway also encouraged me to pursue a future at Murray State."