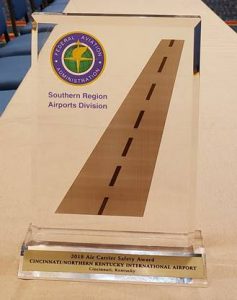 ERLANGER, Ky. — The Cincinnati/Northern Kentucky International Airport (CVG) has been named the winner of the Air Carrier Safety Award as part of 2018 FAA Southern Region Airports Division Safety Awards ceremony that took place last night.
According to the FAA, "this program offers us the opportunity to acknowledge and celebrate the hard work and success of our colleagues who have exhibited excellence in aviation safety."
In the award submission, CVG highlighted that it installed 116 radar-technology surveillance units in its ground vehicles that travel in movement areas of the airfield. The effort was an upgrade in the monitoring system that was in place to enhance communication between airport personnel and the Federal Aviation Administration (FAA).
"CVG Airport is dedicated to keeping the traveling public safe," said Candace McGraw, chief executive officer, CVG. "This is at the core of what we do, and it is an honor to see the collaborative efforts of our hard-working team and the FAA recognized."