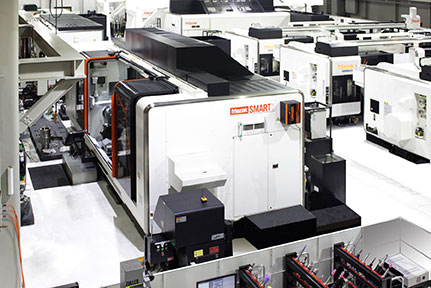 FLORENCE, Ky. — Northern Kentucky's Mazak, a forward-thinking pioneer in manufacturing, will showcase several innovations that apply emerging technologies to manufacturing applications at the MT360 Conference held June 17-20 in Santa Clara, Calif.
In line with the inaugural event's goal to bridge the gap between manufacturing and technology, Mazak will present its SMOOTH TECHNOLOGY, Mazak SmartBox IIoT connectivity solution, HYBRID Multi-Tasking Additive Manufacturing and VR Training technology. All of which are examples of the company's continued leadership in bringing together technology and manufacturing for the advancement and growth of manufacturers in all industry sectors.
At the heart of Mazak's technology and manufacturing innovations is the company's SMOOTH TECHNOLOGY, a comprehensive suite of digital solutions and network connectivity options, including SMOOTH Link, SMOOTH MPP and the Mazak SmartBox initially developed in collaboration with Cisco Systems Inc. During the MT360 event, the company will demonstrate how these technologies help manufacturers achieve full digital connectivity for process monitoring and optimization.
As an industry first, the Mazak SmartBox launch platform for easy and highly secure entrance into the Industrial Internet of Things (IIoT) continues as the company's cornerstone solution for giving customers the secure digital connectivity they need to thrive in today's competitive manufacturing industry. As a scalable, end-to-end solution, the Mazak SmartBox connects machines, software and other manufacturing equipment to a single network via the MTConnect® open source communications protocol for a fully networked manufacturing environment.
Because the digital connectivity needs of manufacturers differ, Mazak developed its SMOOTH Link solution that makes remote monitoring simple. It requires only a commercial-off-the-shelf wireless network to enable users to monitor and manage their machines from any computer, tablet or smartphone.
The merging of technology and manufacturing has also resulted in Mazak's development of cognitive or smart automation through its SMOOTH MPP software. The software works with the company's Multi-Pallet Pool (MPP) automation, a space-saving palletized system for manufacturers unable to accommodate full-size linear-style automated pallet systems. With smart capability, SMOOTH MPP predicts necessary tools and production output according to the production schedule, displaying pertinent information to the user in a variety of graphs that enable easy utilization analysis.
Additive manufacturing continues to dominate as an emerging technology and one that Mazak incorporates into its HYBRID Multi-Tasking series of machines. To provide manufacturers with true, single-setup DONE IN ONE® part processing capability, Mazak integrates advanced additive manufacturing technology into traditional Multi-Tasking and full simultaneous 5-axis subtractive machine tools. Technologies such as wire arc additive manufacturing and multi-laser metal deposition of these revolutionary HYBRID systems are transforming manufacturing just as conventional subtractive Multi-Tasking has.
While still in its beta-testing stage, Mazak's Virtual Reality Training program featured at MT360 creates an environment in which participants safely learn to repair, program, operate, disassemble and reassemble components, all in a world in which mistakes cause neither injuries nor machine damage.
The version of the training program at the conference will show a lesson in operating Mazak's MAZATROL SmoothX CNC on a Mazak INTEGREX i-200 advanced Multi-Tasking Machine. In past demonstrations, the system often attracts instant interest, especially from younger participants who tend to quickly master the VR equipment tutorial.