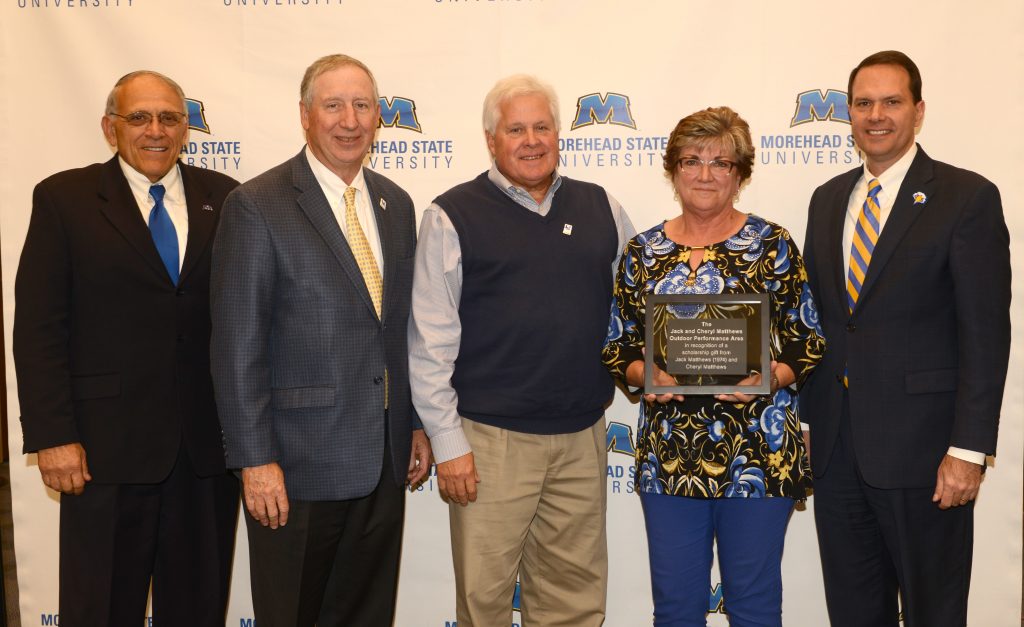 MOREHEAD, Ky. — The terrace outside the newly renovated Adron Doran University Center at Morehead State University has been named the Matthews Outdoor Performance Area to recognize the establishment of the Matthews Family Scholarship Endowment fund. The fund, established by alumnus Jack Matthews (74) and his wife Cheryl Matthews, will provide scholarships for Morehead State University students majoring in theatre.
As a student, Jack pursued a degree in business administration at MSU and was a member of Pi Kappa Phi fraternity. He completed his undergraduate degree in 1974, and later joined the insurance business. Jack is a member of the MSU Foundation Board of Trustees and is also a former member of the Alumni Association Board of Directors. He and Cheryl have supported MSU in several areas including annual contributions to the Elmer R. Smith College of Business and Technology, general student scholarships, and are frequent sponsors of the annual Spring Gala celebration.
Now, they have chosen performing arts as an additional area they would like to support. The Matthews Family Endowment will produce an annual scholarship for a full-time undergraduate student pursuing a degree in theatre. Preference will be given to students with a focus on technical support including lighting, sound and stage management, as well as those students with demonstrated community service. For the Matthews, establishing this endowment was personal. The endowment was created in honor of Paul Denayer who served as a theatre faculty member while the Matthews' son Alan was a student.
"Our son Alan graduated from Morehead State with his degree in theatre in 2011, and has never been without work since," said Cheryl Matthews. "We appreciated the attention Morehead gave him before he even made the decision to attend. We're just so thankful."
While the Matthews have been long time supporters of MSU through annual gifts, the creation of this endowment will support MSU students for generations to come.
"We have reached a stage in our lives where making a gift like this is possible. We realized that it was time to give back," said Jack Matthews. "Given that funds are no longer coming to state schools the way they used to, student scholarships are important now more than ever for student success."
This year, the President's Annual Spring Concert on the Lawn will be held at the Matthews Area Performance Area featuring the MSU Commercial Music Ensemble, MSU Jazz Combos, and Percussion Groups. The area will also serve as a gathering place for students.
This scholarship endowment was established as part of the Soar to New Heights Scholarship Campaign.