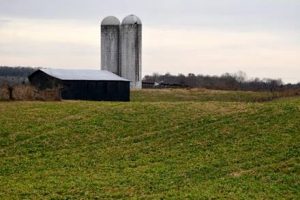 LEXINGTON, Ky. — University of Kentucky agricultural economists are offering information for producers dealing with financial pressures after several years of downturn in the industry.
"Since farmers make up only 2 percent of the population, it can be easy to overlook the struggles that many farmers are currently facing regarding tight profit margins, cash-flow issues and potentially declining net worth," said Jonathan Shepherd, extension farm management specialist in the UK Department of Agricultural Economics. "These resources will give farmers things to consider if exiting or scaling down their operation size is in their best interest under the current agricultural economic downturn."
A link to their resource guide is available on the UK agricultural economics website at http://agecon.ca.uky.edu. The guide offers a wealth of information for producers and others who support the agricultural industry, including lenders, extension agents and family members. This information can help individuals find ways to work through the challenging economic climate or potentially consider an exit from the industry.
"Our goal was to compile a set of resources for agricultural producers as they consider their options and look to improve their financial situations," said Kenny Burdine, extension agricultural economist in the UK College of Agriculture, Food and Environment.
The guide includes definitions and examples of ways producers and their lenders can assess the financial health of an agricultural enterprise. It also includes ideas to generate additional revenue as well as tax implications for discontinuing a farming operation.
"Luckily, there are numerous resources available to farmers to aid in developing financial statements and key financial performance measures," said Jordan Shockley, UK extension agricultural economist. "Producers should remember that a lender is one of their resources. Keeping open communication with a lender can help producers track their financial performance measures and identify any trends that may indicate future financial stress."
In addition to offering to farm finance information, the team of economists worked with Deborah Reed, UK agricultural health nurse, to include resources for producers and families facing stress related to their financial situations.
"A difficult farm financial situation can create stress and mental health concerns for the farm family," said Alison Davis, UK extension agricultural economist. "The University of Kentucky and its partners are preparing communities of practice to help farmers who are facing challenging times."
Additional resource guide contributors include agricultural economists Todd Davis, Greg Halich, Steve Isaacs, Jerry Pierce and Sarah Bowker, communications director for the Community and Economic Development Initiative of Kentucky.