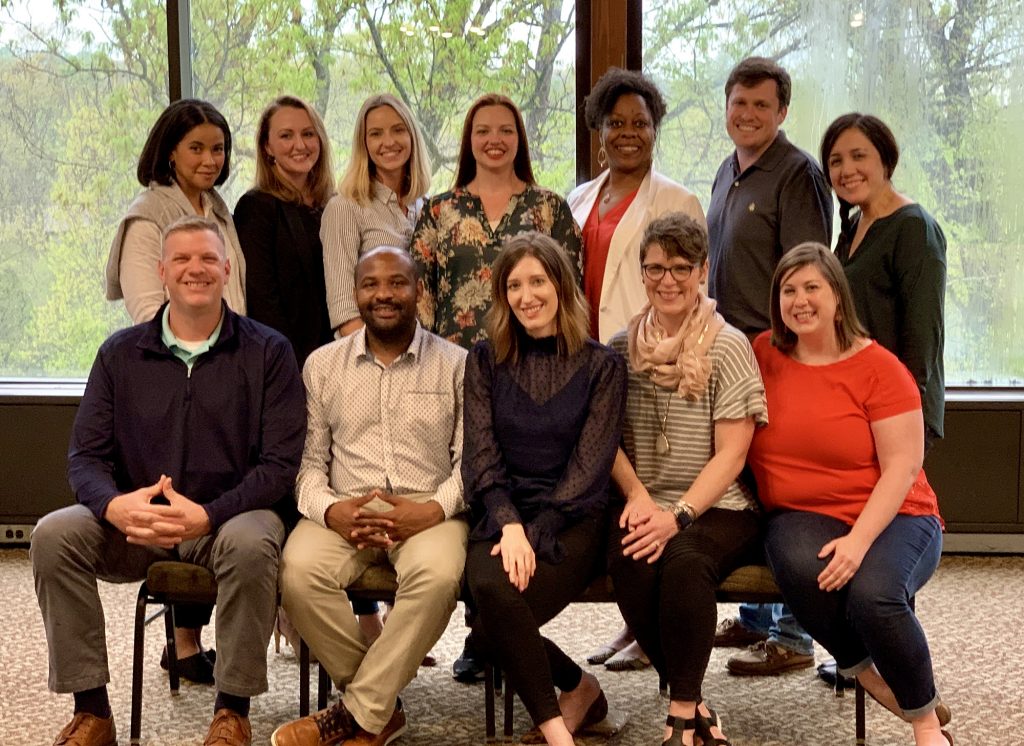 LOUISVILLE, Ky. — Forty-two emerging leaders have been selected for the Leadership Louisville Center's Ignite Louisville Class of Fall 2019 that will run from April – October 2019. This is the 22nd class of the award-winning program, presented by Norton Healthcare, which has graduated over 950 up-and-coming leaders and offers two classes each year, preparing next-generation talent for expanded roles in their organizations and in the community.
This class will be the first to experience new leadership curriculum with a digital component, oGoLead, David Novak's signature online leadership program. The six-month Ignite Louisville experience grows mid-level professionals by developing the key components of leadership, with core curriculum developed by the Leadership Louisville Center and partners including Norton Healthcare, Brown-Forman Corporation, the U.S. Army and new partner oGoLead. The class puts these lessons to work through the Ignite Louisville Challenge, which is an opportunity to work on a team for a local nonprofit to develop and implement solutions for their needs. The teams compete to do the most good for their nonprofit, gaining hands-on experience performing on a diverse team and serving the community. Since the first class graduated in 2005, Ignite Louisville participants have worked on over 125 projects for area nonprofits to plan, execute and sustain new strategies for success.
Members of the Ignite Louisville Class of Fall 2019 (April – October 2019) are:
Raelyn Adkins, Beam Suntory
Kristin Ayres, Tri-Arrows Aluminum
Serrita Bell, Presbyterian Foundation
Elizabeth Cobb, Kentucky Hospital Association
Kathleen Cogan, Brown-Forman Corporation
Victoria Coleman, Hosparus Health
Zac Conley, LG&E and KU Energy
Natalie Fehder, Scoppechio
Katherine Graf, Dynacraft, a PACCAR Company
Greg Harbin, BrightSpring Health Services
Jenna Haugen, Ph.D., University of Louisville
China Hepburn, Louisville Metro Government
Mallory Howell, Humana Inc.
Allison Hughes, GE Appliances, a Haier company
Mark Jeziorski, Louisville Metro Emergency Services
Taylor Jolly, Mercer
Jennifer Lea, GE Appliances, a Haier Company
Josh Lester, Eaton Corporation
Brian Lightsy, Farm Credit Mid-America
Scott Maloy, MCM CPAs & Advisors LLP
Cory Moneymaker, The Healing Place
Amir Nahavandi, Dinsmore & Shohl LLP
Stephanie Palacio, BrightSpring Health Services
Belicia Parga, Papa John's International
Mike Patterson, Texas Roadhouse
Holly Poe, Papa John's International
Ebony Pryor, New Birth Church
Hayley Pugel, RunSwitch Public Relations
Amanda Regan, GE Appliances, A Haier Company
Shannon Rickett, University of Louisville
Emily Savage, Humana Inc.
Maria Eliza Perdido Schaefer, Humana Inc.
Katie Schneider Curran, Al J Schneider
Lacy Shumway, Norton Healthcare
Shantelle Simpson, Park DuValle Community Health Center
Meredith Slater, CASA of the River Region
Elizabeth Strehl, Humana Inc.
Jessica Thornton, Louisville Metro Government
Jasmine Weatherby, Louisville Metro Council
Lavel White, Office for Safe and Healthy Neighborhoods
Emily Wilson, Yum! Brands
Carla Wright, Greater Louisville Inc.