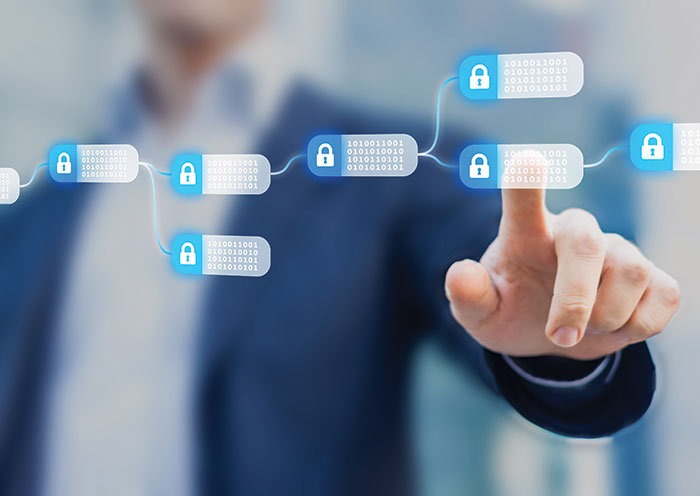 Though some other universities in the state may be better known, University of the Cumberlands in Williamsburg is making a name for itself in the burgeoning blockchain implementation sector with a cutting-edge degree program few others in the nation can boast.
The private liberal arts university founded in 1888 has a rapidly growing student body. Its total enrollment is about 11,700 students, of which about 9,000 are graduate students, most of whom take classes online.
Starting this summer, UC will be the first university in Kentucky and one of a handful nationwide to offer a new online graduate degree program called Master of Science in Global Business with Blockchain Technology.
Blockchain technology uses a special shared-recordkeeping system of verifying, coding, adding and storing organized data – blocks of which are chained together uniquely and inalterably – across networks in a way that's not only versatile but exponentially harder for would-be wrongdoers to change or hack. This makes it attractive to companies in sectors including banking, health-care records, marketing and retail, among others.
The new program is regionally accredited by the Commission on Colleges of the Southern Association of Colleges and Schools.
UC Department Chair of the Hutton School of Business Lois McWhorter said the new graduate degree program will require about 31 credit hours and teach students high-demand skills in blockchain technology. Currently there are no set limits on the number of students who can enroll, she said.
---
IT'S FREE | Sign up for The Lane Report email business newsletter. Receive breaking Kentucky business news and updates daily. Click here to sign up
---
Blockchain was chosen as a new degree program focus, McWhorter said, to build on the university's current strengths in the IT arena with a technological skill that is cutting edge, projected to be in demand long-term and transformative to the economy and the world.
In 2018, blockchain was among the most requested skills on LinkedIn, with mentions in more than 20,000 posted job openings throughout the U.S., McWhorter added.
While noting that blockchain engineers and developers can command six-figure salaries, a UC press release also states that companies such as Walmart, Amazon, FedEx and UPS are using the technology already, with other major banks and corporations eyeing it as well.
McWhorter said, for example, Walmart has notified produce suppliers of a mandatory switch to blockchain technology to quickly pinpoint sources of contaminated produce in the event of a recall, saving time and potentially lives. Ultimately consumers will have the ability to simply scan a code and determine a food's origins for greater transparency, she said.
"This type of technology allows for almost instantaneous tracking of almost any kind of transaction," she said. "…It is that ability to be able to track a transaction and track it very, very quickly that has made it so important."
Fine detail, more functions
In supply chain management, "smart contracts" can be imbedded in blockchain data to consistently ensure product quality is being met at all stops along shipping routes, McWhorter said. And in marketing applications, blockchain use allows companies not only to pinpoint how people interact with digital advertising but also to what extent – perhaps even reward individual consumers in digital currency based on their frequency of interactions.
Online students will learn how to develop code and perform data mining in blockchain, address needs and challenges in the field, analyze its impact on business, and create and implement a variety of blockchain functions, according to the university's website.
To help online students grasp the ins and outs of blockchain technology, McWhorter said well-qualified faculty and current industry practitioners are bringing their expertise to the coursework.
"We feel like that really benefits our students," she said. "We think that this is really groundbreaking technology; it's a groundbreaking degree."
UC is no stranger to new technologies like blockchain, as the university has been designated a National Center of Academic Excellence in Cyber Defense by the National Security Agency and the Department of Homeland Security, which McWhorter said is a designation held by only three Kentucky universities.
Other master's degree programs in the field at UC include information technology, information systems technology and digital forensics. A Ph.D. in information technology is also offered.
Internationally recognized certification
Students who complete UC's newest online courses in blockchain technology will experience a combination of virtual lab exercises, research theory and application activities, and learn required skills to take the internationally recognized certified blockchain professional certification exam, according to UC's website.
"This blockchain degree is for active professionals in information technology, business, health care, etc., who want to advance their careers and build upon the skills they already possess," said Donnie Grimes, vice president for information services at Cumberlands, in a press release. "The program will provide a robust, comprehensive education on blockchain technology's reach and usage. We want our students as prepared as possible to navigate the dynamic field of cryptocurrency well, manage technology with excellence and bolster their reputation within their careers."
UC Vice President for Academic Affairs Chris Leskiw said in his 16 years at the university, he's seen a consistent emphasis on embracing new technologies. UC's first online degree programs were offered in 2005, among the first in the state, he said.
"We've been known for our innovations," he said.
Leskiw said consumers will also have greater access to data, such as their own health care, insurance and billing records, with the more widespread use of blockchain technology.
In the future, blockchain courses and certifications may eventually be offered to more UC students and even high school students, Leskiw said. And program graduates won't have to move away to a big city to use these skills. With accessibility to high speed internet, they can stay in the area if they choose, and benefit their own communities, he said.
"Train our own so they serve our own, and serve the people of the mountains," Leskiw said.
Blockchain technology at a glance
Blockchain serves as a shared, digital ledger that no single person or entity controls, and that the public can view and impact, allowing companies to access and track business data securely and efficiently.
Though it had its earliest applications in the realm of cryptocurrency, like Bitcoin, blockchain has been found to have far more uses, including transactions in real estate, human resources, marketing, health care, banking and supply chain management sectors, as well as in voter registration.
A useful infographic that illustrates in-depth what blockchain technology is and does can be found at tmsnrt.rs/2K2sDvn.
For more information about the Master of Science in Global Business with Blockchain Technology at the University of the Cumberlands, visit bit.ly/2IxExwg.
Source: University of the Cumberlands
---
Shannon Clinton is a correspondent for The Lane Report. She can be reached at [email protected].