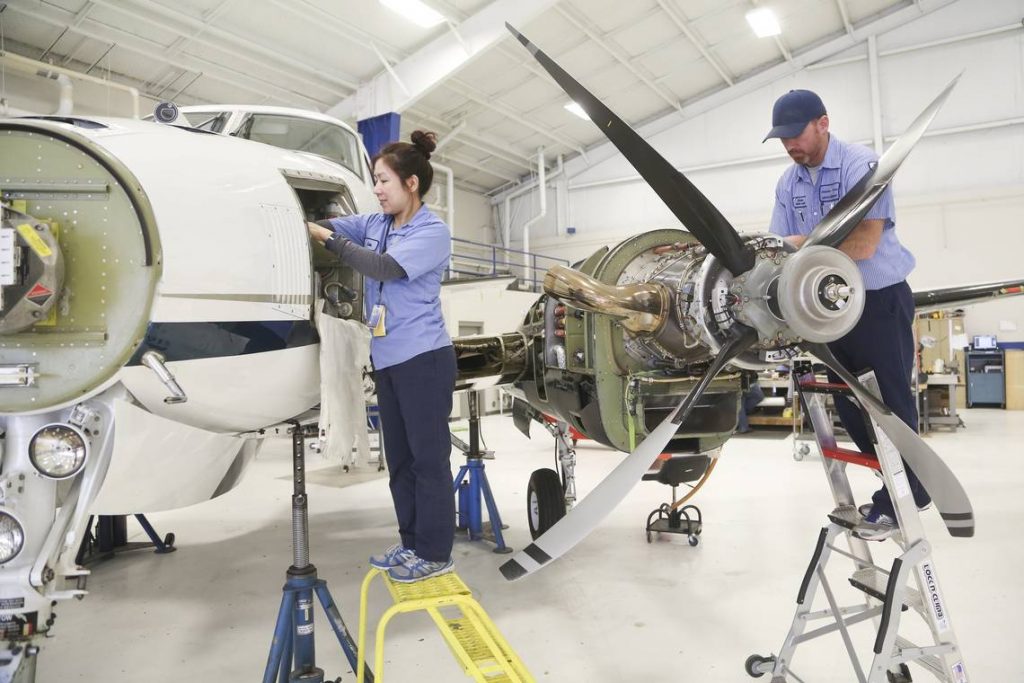 FRANKFORT, Ky. — Transitioning military personnel and veterans with aviation or power plant mechanics experience are now eligible to become Federal Aviation Administration (FAA) certified in Kentucky.
Through a collaborative effort among the Kentucky Science and Technology Corporation (KSTC), Kentucky Community and Technical College System (KCTCS), the University of Louisville (UofL), and the Kentucky Commission on Military Affairs (KCMA), Kentucky launched the Veterans Accelerated Learning for Licensed Occupations (VALLO) initiative to provide occupational certifications for veterans and transitioning military personnel seeking employment opportunities.
Stewart Ditto, executive director of the Kentucky Aerospace Industry Consortium, said, "Kentucky is the number two exporter of aviation and aerospace products in the United States and currently faces critical labor shortages in this field, one of the Department of Labor's primary focus areas. Aerospace and Defense are key to the future for Kentuckians."
VALLO is the first program of its kind to recognize education, skills and training obtained through the military as an avenue for accelerating transitioning military personnel and veterans into high-paying employment opportunities in Kentucky. The program aligns civilian training requirements in an effort to reduce barriers to certification, and place transitioning soldiers and veterans into Kentucky's workforce at a faster rate.
"Our Military Transition and Veterans Resource Team has been working to increase training and employment resources, and awareness for transitioning military, veterans and their families. This is an excellent example of why Kentucky is making its mark as one of the most military-friendly states in the country," said Kentucky Workforce Innovation Board Executive Director Melissa Aguilar. "The work of the VALLO team is extremely important to help solve the workforce shortages which our employers face on a daily basis. Employing highly skilled veterans is a win for everyone and we applaud the successful efforts of this incredible new opportunity."
VALLO aligns three regional partners alongside industry, education and public sector stakeholders to overcome disconnects between military training and civilian license requirements. By condensing the 18-month certification program to one semester for qualifying veterans, VALLO creates a more efficient aircraft mechanics pathway for transitioning soldiers and veterans to obtain long-term careers earning more than $60,000 annually.
"Veterans are one of the key sources of highly capable employees helping Kentucky lead the nation in the Defense and Aerospace markets," said Retired Col. Blaine Hedges, executive director of KCMA.
Through the VALLO initiative, Kentucky will continue its efforts to make the transition of soldiers and veterans from military service to employment easier and more efficient across the commonwealth. The VALLO team anticipates additional occupations to be available for transitioning soldiers and veterans over the next two years.
Megan Brown, program manager of the VALLO initiative, said, "We've worked hard since last summer. While this is the first accelerated pathway that has gone live, we look for many more in the coming months. We are focusing on accelerated pathways in occupational clusters such as transportation, construction, protective services, and healthcare and anticipate 35 accelerated pathways by the end of the initiative."
Somerset Community and Technical College and Jefferson Community and Technical College are now offering the VALLO accelerated program to eligible military veterans.