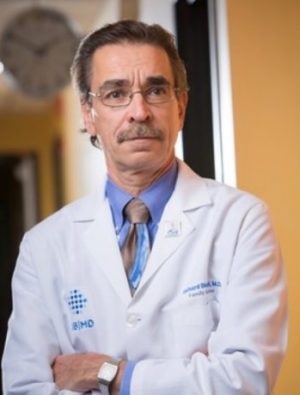 LOUISVILLE, Ky. – A nationally recognized addiction expert will speak about managing pain for patients with opioid use disorder Thursday at the UofL Health Sciences Center.
Dr. Richard Blondell, vice chair for addiction medicine and professor of family medicine at the University of Buffalo Jacobs School of Medicine and Biomedical Sciences, will give an overview of substance use disorders and ways to treat acute and chronic pain for patients with addiction. The event will be held 11:30 a.m.-1 p.m. in the basement-level auditorium of the UofL Ambulatory Care Building, 550 South Jackson Street.
Blondell provides health care to patients as they withdraw and stabilize from drug and/or alcohol addiction. His research centers on clinical management strategies for groups of patients with prescription drug addiction, including pregnant women and people with chronic pain.
No stranger to Louisville, Blondell established the first addiction medicine consult service at UofL Hospital in 1998 to aid the trauma service with withdrawal management following patient admission and referrals to addiction treatment programs at the time of discharge.
"I didn't choose to specialize in addiction medicine so much as it chose me," Blondell said. "I became the program director of the UofL Family Medicine Residency Program in 1989. Shortly thereafter, I sent two family medicine residents off to receive treatment of their substance use disorders."
The Kentucky Medical Association sponsored an off-site, two-week addiction medicine training for Blondell, and over the years he became increasingly involved in addiction medicine.
Blondell develops best practices for training the next generation of physicians on how to treat and prevent addiction. In 2013, he was named the first director of the National Center for Physician Training in Addiction Medicine, established by the American Board of Addiction Medicine Foundation (ABAMF). The addiction medicine fellowship he developed at the University of Buffalo Department of Family Medicine was among the nation's first postgraduate addiction medicine residencies accredited by ABAMF.
Blondell completed his family medicine residency training at the UofL School of Medicine in 1981, and served on the faculty at the school from 1985-2003.