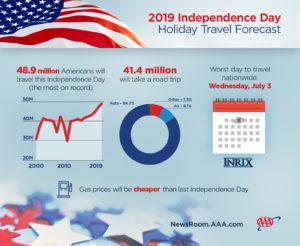 LEXINGTON, Ky. — Nearly 49 million Americans will celebrate the red, white and blue with an Independence Day getaway this year—more than ever recorded since AAA began tracking holiday travel data in 2000.
Overall travel volume for the holiday is expected to rise 4.1% over last year, with an additional 1.9 million people planning road trips and other vacations to celebrate America's birthday. For the record-high 41.4 million Americans who will travel by automobile this Independence Day, drivers could face delays as much as four times a normal commute, according to global mobility analytics company INRIX, in collaboration with AAA. Wednesday, July 3, is expected to be the worst day on the roads.
In addition to lower gas prices compared to last summer, broader economic indicators remain strong. Low unemployment, robust consumer spending and rising disposable incomes in many areas of the country are all spurring more consumers to invest their hard-earned money in travel this summer.
"As Independence Day approaches, it's time for the much-loved family road trip and this year will be one for the record books, with more Americans than ever planning vacations," said Lori Weaver Hawkins, public and government affairs manager, AAA Blue Grass. "This holiday builds on Memorial Day's strong travel demand, and with school now out, Kentucky families are eager to travel."
The vast majority of travelers–41.4 million–will hit the road, the most on record for the holiday and 4.3% more than last year. Another 3.96 million people will take to the skies, the highest number on record and 5.3% more than last year while those traveling by train, bus or cruise ship will increase by 0.6% to 3.55 million passengers.
For the 41.4 million Americans traveling by automobile this Independence Day, motorists are expected to experience the greatest amount of congestion on Wednesday, July 3, according to INRIX. The problems are expected to escalate as commuters mix with holiday travelers. In major metros, drivers could face delays as much as four times a normal commute. Nationwide, delays are expected to increase by approximately 9%.
"With record-level travelers hitting the road this holiday, drivers must be prepared for delays around our major metros," said Trevor Reed, transportation analyst at INRIX. "Although travel times are expected to nominally increase throughout the week, hands down, Wednesday afternoon will be the worst time to be on the road."
After weeks of steady declines at the pump, gas prices have started to inch upward across the country. But while the national average has climbed 6 cents in the past week, it still remains about 13 cents less than Independence Day 2018. Today's national average rests at $2.72, but lower prices seen in the past few weeks likely motivated record numbers of travelers to plan road trips for the upcoming holiday weekend.
The current average gas price in the Commonwealth is right around $2.58 for a gallon of regular unleaded.
"Kentucky gas prices have been mirroring what we are seeing across the country, with prices in the Commonwealth averaging about 17 cents less than they were this time last year. That's welcome news for motorists hitting the road to celebrate the July 4th holiday," said Weaver Hawkins.
"While travelers are finding gas prices cheaper than they did during Memorial Day travel, prices have inched higher than what we saw in the past few weeks. Rising crude oil prices, strong demand, holiday travel and the announced closure of the largest refinery on the East Coast are all coming into play."